Our Policy Rx for Safer Healthcare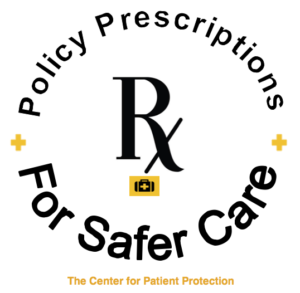 The Cen­ter for Patient Pro­tec­tion, part of PatientProtection.Healthcare, is wide­ly rec­og­nized for its long-standing advo­ca­cy of inno­v­a­tive poli­cies advanc­ing what we call true 21st-cen­tu­ry patient and fam­i­ly engage­ment. Our suite of bold, evidence-based, patient-demanded trans­paren­cy ini­tia­tives for improv­ing health­care safe­ty and empow­er­ing patients, includes:
• manda­to­ry, ver­i­fied report­ing and dis­clo­sure of med­ical and diag­nos­tic errors;
• trans­par­ent, audit­ed and eas­i­ly acces­si­ble rat­ing sys­tems for patient safe­ty in the hos­pi­tal set­ting;
• more account­able over­sight of health­care pro­fes­sion­als, along with hos­pi­tal and gov­ern­ment com­plaint sys­tems that are more patient/user/victim-friendly and trauma-informed;
• cre­ation of com­pan­ion leg­is­la­tion to the Cana­da Health Act gov­ern­ing the pro­tec­tion, safe­guard­ing, and access to, patient health infor­ma­tion that places all Cana­di­ans on a equal foot­ing and pro­vides Cana­da with fed­er­al laws sim­i­lar to the U.S and UK;
• cre­ation of a nation­al­ly coor­di­nat­ed and pub­licly acces­si­ble data­base of dis­ci­pli­nary actions against health­care pro­fes­sion­als; and
• estab­lish­ment of a nation­al patient safe­ty agency to over­see the pre­ven­tion of sys­temic break­downs in care, med­ical errors and hospital-associated infec­tions, along with estab­lished pro­to­cols for DNR deci­sions by patients and fam­i­lies;
To cre­ate a more fair, bal­anced and patient-friendly health­care sys­tem, The Cen­ter for Patient Pro­tec­tion also calls for:
• elim­i­na­tion of Canada's tax­pay­er sub­sidy of the Cana­di­an Med­ical Pro­tec­tive Asso­ci­a­tion (CMPA), where pub­lic funds are used to pay the lia­bil­i­ty insur­ance pre­mi­ums of physi­cians;
• remov­ing fees for patient access to med­ical charts;
• end­ing hos­pi­tal park­ing charges; and
• bet­ter train­ing, includ­ing trauma-informed prac­tices, of health­care pro­fes­sion­als in pro­vid­ing emo­tion­al and stress-abating sup­port to fam­i­lies car­ing for hos­pi­tal­ized loved ones.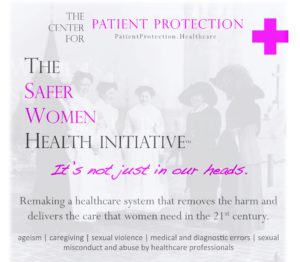 The Cen­ter for Patient Pro­tec­tion is the first advo­ca­cy of its kind to call for a nation­al strat­e­gy for remov­ing gender-related bar­ri­ers to health­care for women (see below), includ­ing par­tic­i­pa­tion in clin­i­cal research, which cur­rent­ly places too many women at risk for adverse out­comes com­pared with male coun­ter­parts. The Cen­ter also urges the cre­ation of a com­pre­hen­sive strat­e­gy for sui­cide pre­ven­tion, includ­ing adop­tion of the three-digit 988 cri­sis line.
The Cen­ter for Patient Pro­tec­tion con­tin­ues its unique work in pro­vid­ing com­pas­sion­ate sup­port to patients and fam­i­lies seek­ing safer care and help­ing them to nav­i­gate through the after­math of med­ical errors. Too many patients and fam­i­lies around the world report major dif­fi­cul­ty in obtain­ing prop­er health­care respons­es when faced with adverse events in the hos­pi­tal set­ting or when con­front­ed by seri­ous break­downs in care or com­mu­ni­ca­tion with the health­care team.
Many say they have nowhere to turn dur­ing these times of great­est need and emo­tion­al stress where the well-being of a loved one hangs in the bal­ance or the search for answers hits a wall of silence.
The first of its kind any­where, and now in its 8th year, The Cen­ter's online out­reach clin­ic has helped and sup­port­ed patients and fam­i­lies around the world. Despite a heavy case­load, and entire weeks often devot­ed to the needs and inter­ven­tion requests of a sin­gle patient or fam­i­ly mem­ber, no out­reach for help from vul­ner­a­ble or finan­cial­ly dis­ad­van­taged patients or fam­i­lies has ever been turned away.
The Cen­ter for Patient Pro­tec­tion con­tin­ues its pol­i­cy, guid­ed by its heal­ing health­care virtues, of nev­er charg­ing the most vul­ner­a­ble patients and fam­i­lies for this ser­vice.