Welcome to The Center for Patient Protection
&
Patient Protection.Healthcare
Building on lived experiences and innovative thinking to create better outcomes and more compassionate care in patient safety, mental health delivery and reduction of suicide risk.
Recent Media Appearances
More op-eds by Kathleen Finlay on the challenge of fighting gender-based violence and sexual harassment at The ZeroNow Campaign.
Kathleen Finlay's feature article in Healthy Debate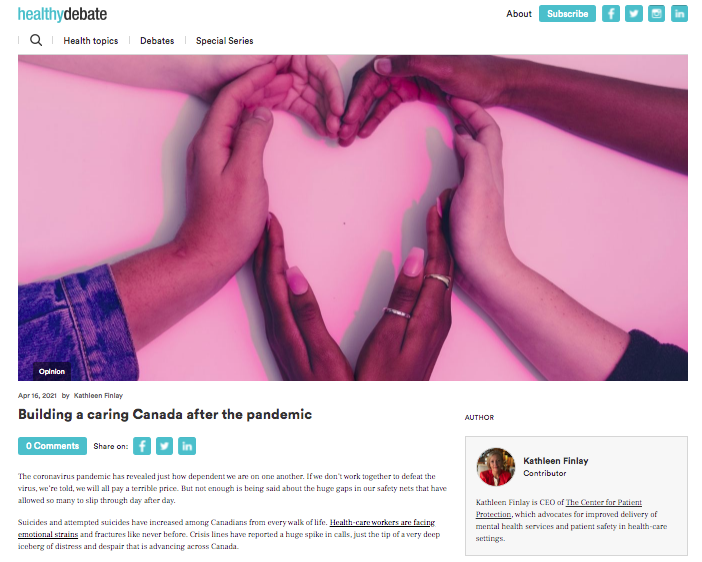 A call for a national response by Ottawa to address the pandemic's mounting toll in mental health distress and suicide risk.
Kathleen Finlay's latest column in The Hill Times.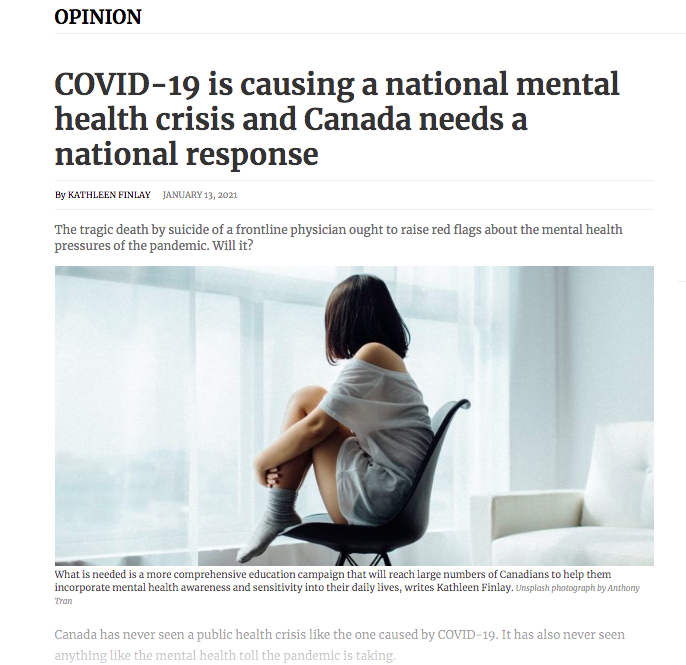 After repeated pleas to MPs and Senators for more than a year to support the campaign to bring 988 to Canada, the House of Commons finally voted to support the idea. It made no mention of the family-victim campaign that introduced this life-saving innovation to Canada. To be successful, 988 needs to stay a victim-family initiative.  Kathleen Finlay's interview on CTV News, and her recent call on Ottawa to ban harmful telecom disconnections during the pandemic.
Never Play Politics with Suicide
Kathleen Finlay's column in The Hill Times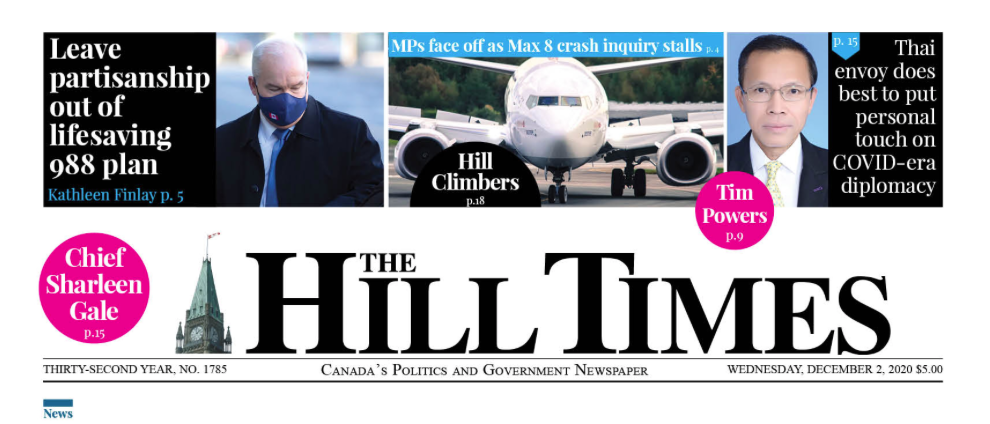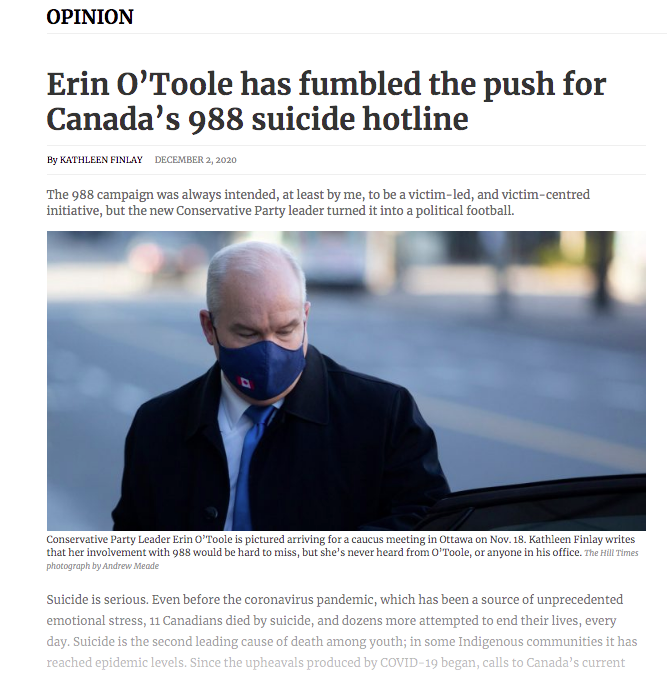 Kathleen Finlay's interview on WildTV on why Canada needs a new 988 lifeline system for better mental health delivery and suicide prevention.
A call for a national soul-searching on mental health and suicide. Kathleen Finlay's latest column in NOW Magazine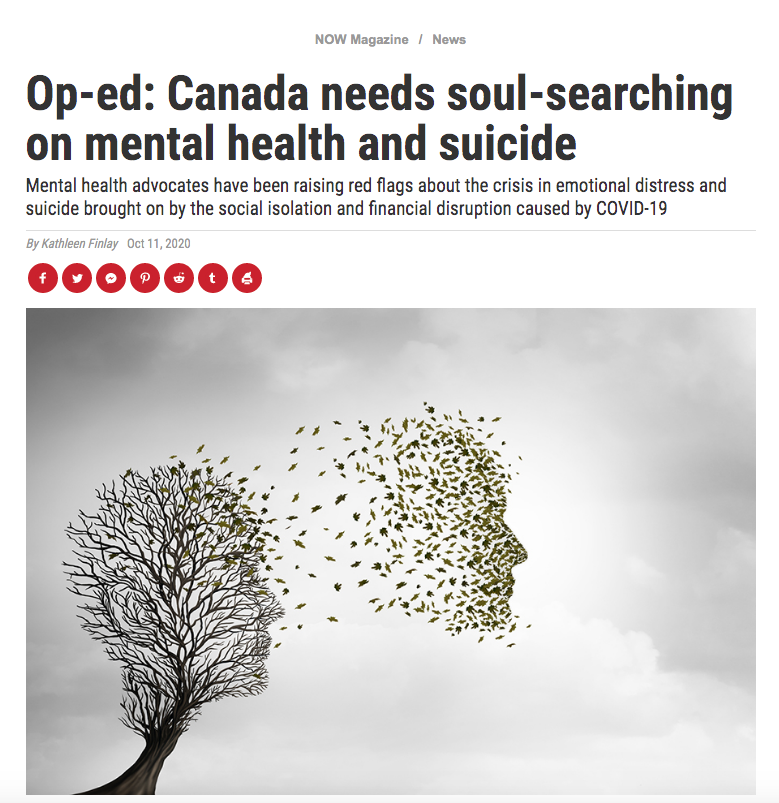 Latest interview on CTV National News with Lisa LaFlamme (Patient Safety)
Latest Opinion Column in The Ottawa Citizen (Mental Health)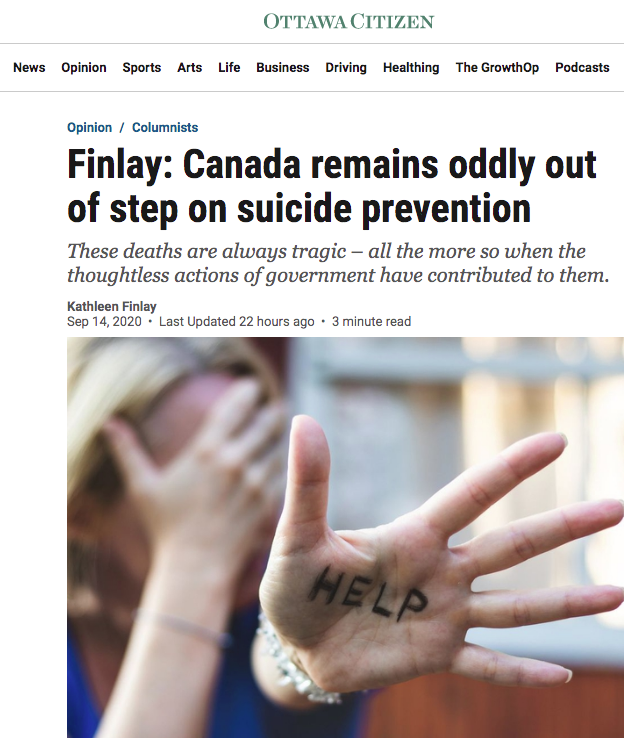 Latest Opinion column in The Hill Times (Preventing Suicide)