The Center for Patient Protection | PatientProtection.Healthcare
The beginning of a better, safer, more compassionate healthcare experience.
Our Campaign to Save Lives: A re-imagined approach to preventing suicide.  A 988 hotline that can be a life ring. Visit the new site of our 988 Campaign for Canada.

See Kathleen Finlay's interview on CTV National News with Lisa LaFlamme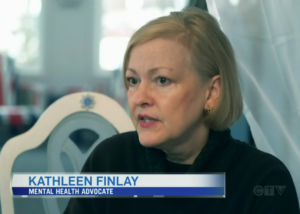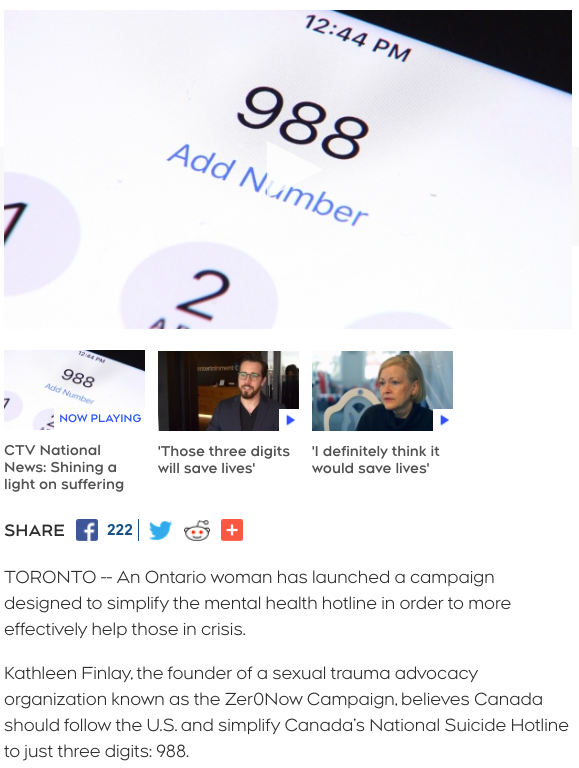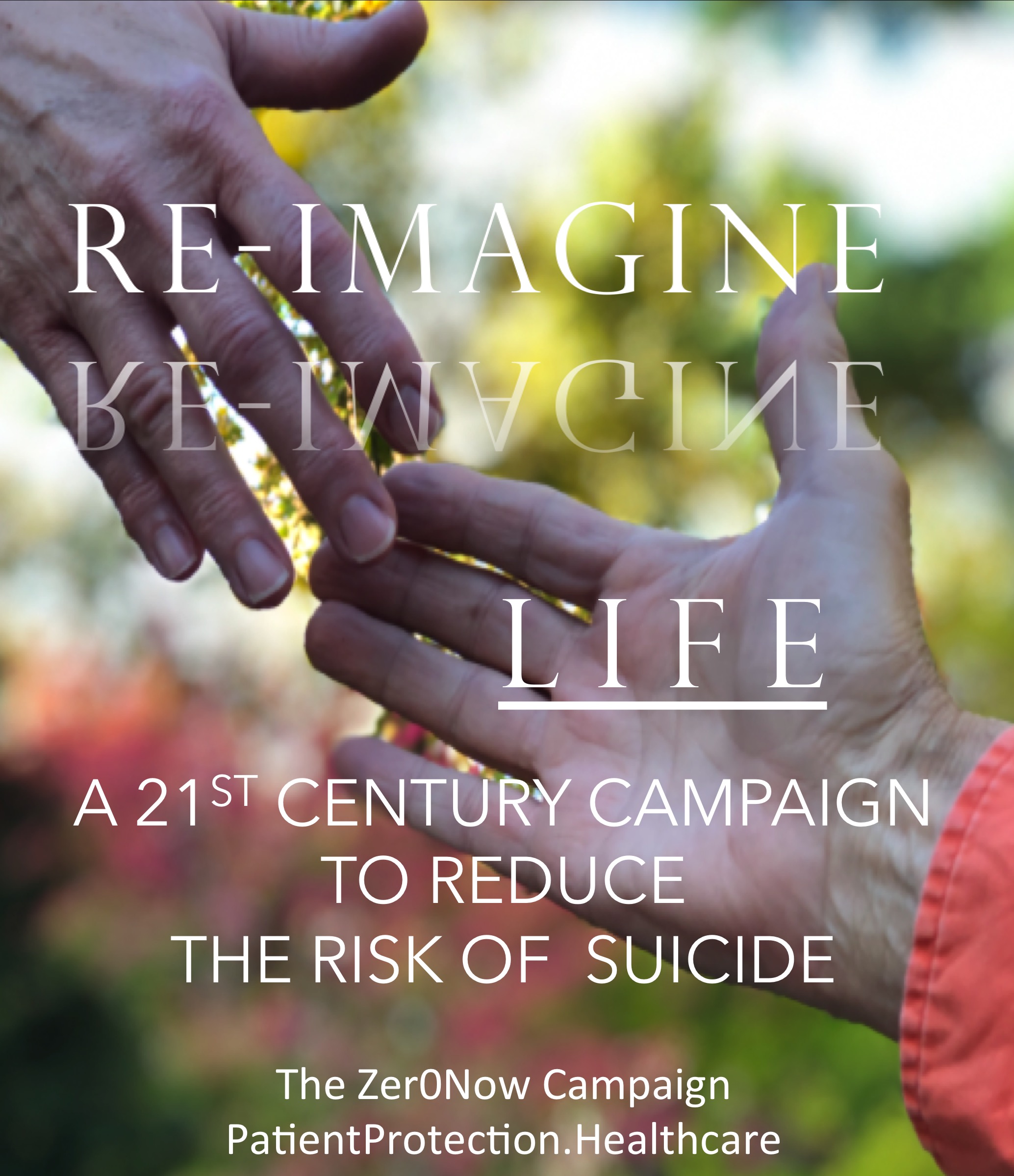 Suicide is becoming an epidemic among some population groups in Canada. Victims of gender-based violence and bullying are especially at risk, as are members of our indigenous communities. We call for a new approach and fresh thinking to address this public health crisis, including the creation of a national three-digit 988 suicide prevention hotline network.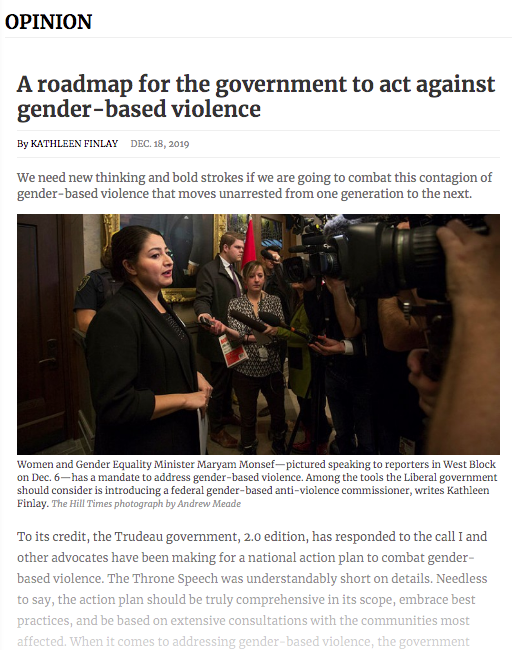 Kathleen Finlay's op-ed in The Hill Times, calling for appointment of a
federal gender-based anti-violence Commissioner.
For more than a year, PatientProtection.Healthcare and the ZeroNow Campaign have called for federal action to address gender-based gaps in healthcare and in the well-being of victims of sexual violence. In Prime Minister Trudeau's mandate letter of December 2019 to the Minister of Health, the federal government committed to developing an action plan to reduce gender-related health gaps. Kathleen Finlay's Hill Times op-ed is part of a series of articles and commentaries that provide insight into a way forward that can produce genuine game-changing outcomes.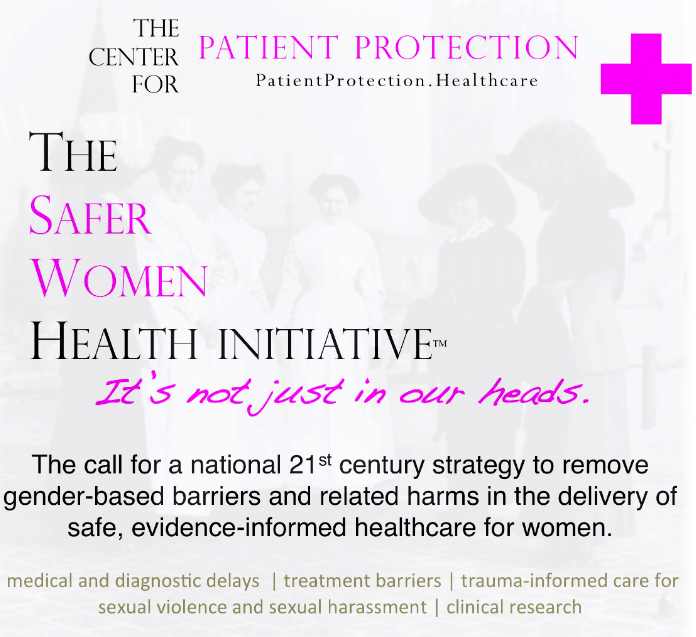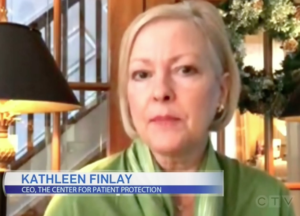 Kathleen Finlay interviewed on CTV National News
The case of Toronto rapper John River (Matthew John Derrick-Huie), who went to the doctor with chest pains and shortness of breath in 2017 and embarked on a two-year medical nightmare.
"Kathleen Finlay, the CEO and founder of The Center for Patient Protection, called River's treatment "appalling."
"Anytime a person presents multiple times to a hospital or a health-care provider for the same symptoms or worsening of their symptoms, that should send up big red flags, that should not be happening," she said.
See video on, disrespect, disbelief and emotional harm in healthcare.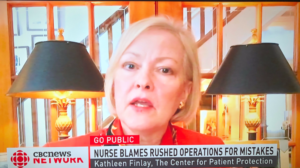 Kathleen Finlay interviewed on CBC's Go Public
Calls medical errors a silent epidemic that needs to be treated as a public healthcare crisis.
Urges creation of healthcare equivalent of NTSB to investigate and reduce critical hospital errors like surgery 'never' events.
Those mishaps are part of a "silent epidemic," according to advocate Kathleen Finlay, founder of the Center for Patient Protection, an independent,Toronto-based group aimed at improving health care.
Too often when seeking healing in the healthcare setting, patients and families encounter harm instead. Frequently it is disabling. Often it is life ending.
—Kathleen Finlay, founder, The Center for PatientProtection | PatientProtection.Healthcare.
Every day, patients, families, healthcare providers and the media from around the world turn to Patient Protection.Healthcare and The Center for PatientProtection for insight and information on how to create a safer, more transparent and compassionate healthcare experience. 
To err is human, to cover up is unforgivable, and to fail to learn is inexcusable.
—Sir Liam Donaldson, MD
Whether we're advocating before Parliament, intervening with a healthcare body, bringing new reforms to the policy table or being interviewed by the national news, patients and families know they have no more committed voice or stronger champion.  
An important social movement seemed to emerge in the wake of "To Err Is Human," but it has lost its way.
—Kathleen Sutcliffe, PhD 
Medical errors are the third leading cause of death in Canada and the United States. They injure millions every year and add billions to the cost of our healthcare systems. Some trends, like leaving objects in patients after surgery, are getting worse. That's why we think our healthcare systems need a second opinion when it comes to the well-being of patients and families.
A21st century approach to healthcare challenges. 
From improving DNR practices to creating safer bedside care, our Patient and Family Engagement Lab builds on our extensive knowledge base of patient and family experiences. We've proposed the creation of the healthcare equivalent of an TSB (Canadian Transportation Safety Board) to combat medical errors and systemic infections, called for mandatory hospital reporting of medical errors and free access to patient medical records, and created a suite of powerful engagement devices like our HealthyListening Tool to improve provider communication with patients and families. 
Change where it counts. 
We've pushed for mandatory hospital disclosure of medical errors, creation of a hospital rating system (we like the Leapfrog model), an end to the typical deny and defend response when patients seek explanations for medical harm, and termination of public funding of the Canadian Medical Protective Association, which is a taxpayer-subsidized legal aid system for doctors.
Re-imagining our approach to suicide prevention.
Suicide is becoming an epidemic in some parts of our population. Among males between the ages of 14 and 24, it is the second leading cause of death. We've proposed the creation of a national strategy to unleash innovative solutions to combat this growing public health crisis, including adoption of a 988 national suicide prevention hotline.
Too often, the greatest health risk to women is— being a woman. 
Women still face healthcare gaps and delays in diagnosis and treatment solely based on gender. These can be life-threatening. They need to be closed and ended. We've called for a national strategy, beginning with the creation of an expert panel of clinicians and patient advocates, to raise awareness and produce a blueprint for a true 21st century approach to removing these harmful gender barriers.