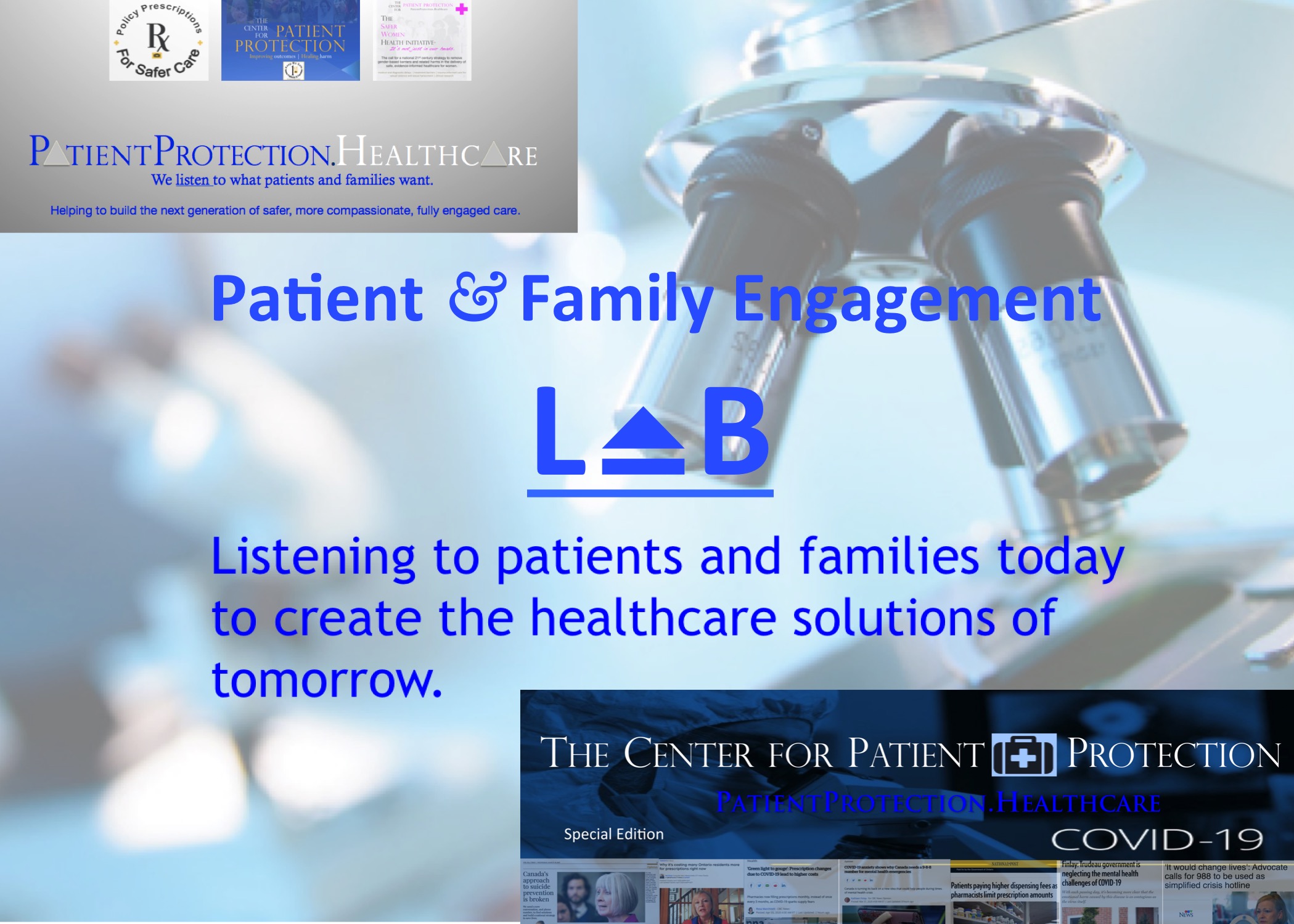 PatientProtection.Healthcare's Patient Safety  Family Engagement Lab
This is where our ideas and policy innovations are born. They are evidence-informed, based on the lived experiences of thousands of patients and families who have interacted with us over the past decade.
Our Patient&Family Trigger Tool was one of the first products of our Lab, along with our Bedside  Medkit.  It is where our hugely popular What do Patients and Families Want? came into being. We developed our Healing  Healthcare Virtues in the Lab and tested it in our interactions with patients and families and the narratives they have shared in our Hospital Incident Report, also produced in the Lab setting.
We built our recommended protocol for Safer DNR practices here and developed a true 21st Century Patient  Family Led Engagement paradigm for safer and more compassionate, trauma-informed care. 
Our research also inspired us to look for ways of turning the hospital complaint process into a true learning tool.
Our time in the Lab also led to our call for a national strategy to address and remove gender-based barriers to women's healthcare — including the way victims of sexual trauma are treated by healthcare professionals, which leads to too many adverse outcomes. We've been looking at ways to re-imagine society's, and the healthcare community's, approach to suicide prevention.  This led to our campaign for a more robust national effort in which we tap the best and most disruptive minds available that have brought innovation to other fields. We've also been calling for the adoption of a simple, fast three-digit 988 suicide prevention line in Canada.  
At the heart of our Lab is the simple idea, often praised in theory by healthcare insiders but less commonly practiced in reality, that we actually listen to what patients and families tell us. We know what they say matters because countless clinical studies confirm the value of their voices.  And because our personal experience in the healthcare setting — including the trauma of not being listened to and watching the harm that caused for a loved one and her family — provided a wealth of lessons in what is most missing most from the healthcare experience today, and what needs to be done to fix it. 
Some of our work leads to entirely unique products for patient safety. Others address training deficits.  And some take a fresh look at communicating in more resonant language and images traditional concepts that still have a solid purpose.  
All of our work is original and highly innovative. It is done without a dollar of funding by any level of government. Over the years, many well-funded providers and healthcare organizations have "borrowed" heavily from our lab. We welcome interest in supporting our efforts on a more just and equitable basis. Our Lab has no parallel in the patient and family engagement community anywhere. 
We've got a number of exciting things currently under the microscope and in development at the Lab right now.  We think they represent the next generation of safer, more compassionate and fully engaged care. We know it's what patients and families want. We hear from them every day.
And we actually listen.