Improving outcomes | Healing harms
The Center for Patient Protection, now a part of PatientProtection.Healthcare, is one of the world's foremost patient and family experience driven voices for improved healthcare outcomes. Created initially to address the epidemic of avoidable medical errors and patient safety breakdowns that claim tens of thousands of lives and adds billions to the costs of healthcare every year, Patient Protection.Healthcare now provides informed and passionate advocacy for improved mental health services, better suicide prevention practices and the elimination of gender-related barriers to safe healthcare for women.
From the beginning, Patient Protection.Healthcare and The Center for Patient Protection have been relentless champions for a culture of compassion and respect and of making patients and families first in every level of the healthcare system. Much more than just another presence on Twitter, our work has actually helped to transform healthcare systems and bring about substantive changes on the part of governments and healthcare providers. Both Patient Protection Healthcare and The Center for Patient Protection are independent and operate free from any perceived or actual conflicts in respect of the healthcare sector, thus ensuring our voice is one of authenticity and entirely patient and family focused.
The Center for Patient Protection was founded by Kathleen Finlay following a life-altering family experience with the devastation of medical errors which, after being documented in Medscape and The Huffington Post, has been reprised to astonished audiences in hundreds of blogs, journals, law pages and websites throughout the world. Kathleen is one of the patient safety movement's most passionate and recognized voices for making patients and families first in the healthcare system. She is frequently interviewed by major media, including CTV News and CBC News and she is a frequent contributor to leading op-ed columns.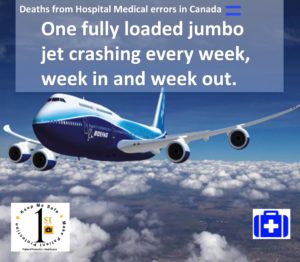 Medical errors in the hospital setting are the third leading cause of death in the United States and Canada. They leave millions injured and emotionally traumatized, and add unnecessary billions of dollars to the costs of our healthcare systems. The cost of medical harm in Ontario alone is estimated at more than one billion dollars each year. Unaddressed mental health issues, and under-funded mental health care, and failures to adopt mitigation measures to prevent suicide, also carry an incalculable cost in human suffering. Gender-related barriers to healthcare place the lives of millions of women at risk every year. 
With a knowledge base built on thousands of patient and family interactions over its years of operation, the unique lived experiences of patients and families provide an invaluable learning tool. This allows PatientProtection.Healthcare to inno­vate, design and nur­ture experience-based patient safety tools and pro­to­cols to reduce avoidable harms and improve health­care out­comes.
Every day, our site is consulted by top healthcare providers, policy makers, healthcare media, and, of course, patients and families, from around the world. By giving voice to the needs of patients and families, and especially, the most vulnerable among us, and by taking a strong role advocating for patient safety innovations and policy reforms, we're helping to save lives, reduce emotional trauma, cut the costs of medical errors and influence positive outcomes for all the participants of our healthcare systems.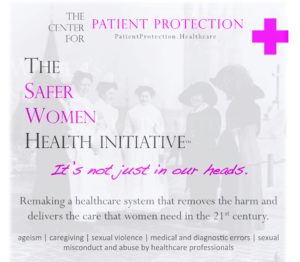 NEW:  PatientProtection.Healthcare's Safer Women Health Initiative™, focusing on raising awareness of, and removing, the barriers to safe care and timely treatment that confront women every day and avoidably place their lives at risk. The initiative seeks to address the often unreported and unknown health issues arising from sexual violence and the need for trauma-informed care in responding to victims. It also calls for a re-imagined and more effective approach to preventing suicide, which has become a public healthcare crisis across society.