Improving outcomes | Healing harms
The Center for Patient Protection, now a part of PatientProtection.Healthcare, is one of the world's foremost independent advocacies for improving healthcare outcomes through true 21st century patient and family engagement, and for adopting a culture of trauma-informed compassion practices in every level of the healthcare system.
Kathleen Finlay founded The Center following a life-altering family experience with the devastation of medical errors.  She is one of the patient safety movement's most passionate and recognized voices for making patients and families first in the healthcare system.
Our work has long been driven by the conviction that an informed patient is a safer patient. We advocate for policies that afford greater transparency and accountability in the healthcare system, empower patients and families in their decisions, reduce the risks of medical errors and recognize healing healthcare virtues like compassion and respect at all levels of care.
From its inception, The Center for Patient Protection has answered the desperate calls of patients and families around the world who say they have nowhere else to turn in their search for safer care or help in navigating the aftermath of a medical error. Through its Online Outreach Clinic, the first of its kind, The Center has provided patient-peer to experienced-peer one-to-one counseling and compassionate support to victims of medical errors, family members and those needing answers in order to move forward in their healing journey. 
The Center for Patient Protection has never charged any vulnerable or financially disadvantaged user for this support service, which it is often urgently called on to provide late at night, on weekends and on holidays. 
With thousands of patient and family interactions over its years of operation, these unique lived experiences form a valuable knowledge base.  This information allows PatientProtection.Healthcare to inno­vate, design and nur­ture experience-based patient safety tools and pro­to­cols to reduce avoidable harms and improve health­care out­comes.
For many years, we made all our groundbreaking tools and solutions freely available to everyone.  Unfortunately, that courtesy was widely abused, with a number of healthcare entities and professionals taking credit for the work and passing it off as their own. Since we cannot condone intellectual theft, these products are available now only upon request. 
Medical errors in the hospital setting are the third leading cause of death in the United States and Canada. They leave millions more injured and emotionally traumatized, and add unnecessary billions to the costs of healthcare systems.
Every day, our site is consulted by top healthcare providers, policy makers and healthcare media from around the world. At The Center for Patient  Protection, and PatientProtection.Healthcare we're proud that our experience-informed approach to patient safety innovations, together with our strong policy advocacy and media presence, are playing a vital role in saving lives, reducing emotional trauma and influencing positive outcomes for countless patients and families everywhere.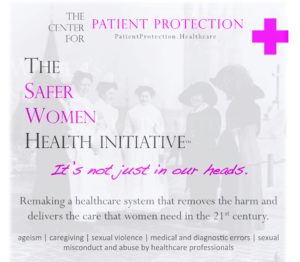 NEW:  PatientProtection.Healthcare's Safer Women Health Initiative™, focusing on raising awareness of, and removing, the barriers to safe care and timely treatment that confront women every day and avoidably place their lives at risk. The initiative seeks to address the often unreported and unknown health issues arising from sexual violence and the need for trauma-informed care in responding to victims. The initiative also calls for a reimagined and more effective approach to preventing suicide, which is a public healthcare crisis among some populations.