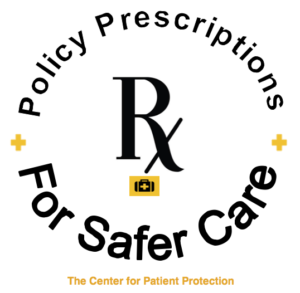 The Center for Patient Protection, part of PatientProtection.Healthcare, is widely rec­og­nized for its long-standing advo­ca­cy of innovative policies advancing what we call true 21st-cen­tu­ry patient and fam­i­ly engage­ment.  Our suite of bold, evidence‐based, patient‐demanded trans­paren­cy ini­tia­tives for improv­ing health­care safe­ty and empow­er­ing patients, includes:
• mandatory, verified reporting and disclosure of medical and diagnostic errors;
• transparent, audited and easily accessible rating systems for patient safety in the hospital setting;
• more accountable oversight of healthcare professionals, along with hospital and government complaint systems that are more patient/user/victim-friendly and trauma-informed;   
• creation of companion legislation to the Canada Health Act governing the protection, safeguarding, and access to, patient health information that places all Canadians on a equal footing and provides Canada with federal laws similar to the U.S and UK;  
• creation of a nationally coordinated and publicly accessible database of disciplinary actions against healthcare professionals; and
• establishment of a national patient safety agency to oversee the prevention of systemic breakdowns in care, medical errors and hospital-associated infections, along with established protocols for DNR decisions by patients and families; 
To create a more fair, balanced and patient-friendly healthcare system, The Center for Patient Protection also calls for:
• elimination of Canada's taxpayer subsidy of the Canadian Medical Protective Association (CMPA), where public funds are used to pay the liability insurance premiums of physicians;
• removing fees for patient access to medical charts; 
• ending hospital parking charges; and
• better training, including trauma-informed practices, of healthcare professionals in providing emotional and stress-abating support to families caring for hospitalized loved ones.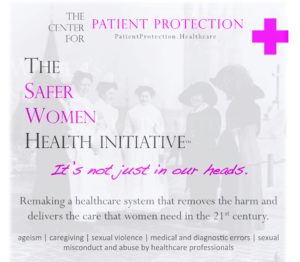 The Center for Patient Protection is the first advocacy of its kind to call for a national strategy for removing gender-related barriers to healthcare for women (see below), including participation in clinical research, which currently places too many women at risk for adverse outcomes compared with male counterparts. The Center also urges the  creation of a comprehensive strategy for suicide prevention, including adoption of the three-digit 988 crisis line.    
The Center for Patient Protection continues its unique work in providing compassionate support to patients and families seeking safer care and helping them to navigate through the aftermath of medical errors. Too many patients and families around the world report major difficulty in obtaining proper healthcare responses when faced with adverse events in the hospital setting or when confronted by serious breakdowns in care or communication with the healthcare team.  
Many say they have nowhere to turn during these times of greatest need and emotional stress where the well-being of a loved one hangs in the balance or the search for answers hits a wall of silence.
The first of its kind anywhere, and now in its 8th year, The Center's online outreach clinic has helped and supported patients and families around the world.  Despite a heavy caseload, and entire weeks often devoted to the needs and intervention requests of a single patient or family member, no outreach for help from vulnerable or financially disadvantaged patients or families has ever been turned away.
The Center for Patient Protection continues its policy, guided by its healing healthcare virtues, of never charging the most vulnerable patients and families for this service.