[two_third]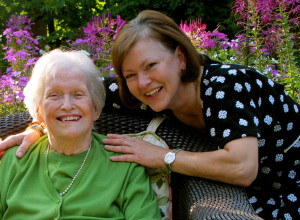 In this intimate portrait of love and devotion, The Center for Patient Protection's founder, Kathleen Finlay, shares how her mother was written-off six years ago by the medical world after sustaining a terrible brain injury and later a cardiac arrest where she was found clinically dead by her nursing team.
Now, on the eve of her mother's 95th birthday, Kathleen tells how her mother's remarkable survival and recovery after all these years is a moving testament to her unshakable spiritual foundation. It is a foundation that also inspired Kathleen, and made her determined that her mother would not become the casualty of an impatient, and often error-prone medical system that has in too many ways become a thief of hope when it comes to the elderly. Instead, it gave her the strength to sustain the long and often bleak journey as her mother's caregiver from ICUs and hospital rooms and then, amazingly, back home again. It is a journey that has made medical history.
This is a heart warming story that celebrates the power of hope, faith and prayer and inspires everyone who reads it. It might even change a life.
This 3,000 word essay is available on request. Please drop us a line here and let us know you would like to have it.
[/two_third][one_third_last][/one_third_last]