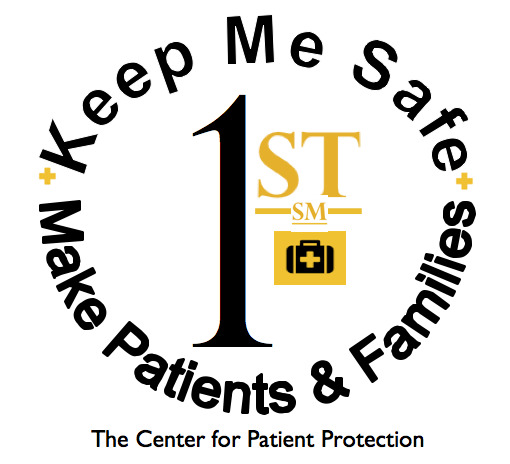 A quick guide for patients and fam­i­lies
Patient- and family-centered care, we like to call it putting patients and fam­i­lies 1st, is acknowl­edged by most health­care experts as offer­ing the best and safest out­comes in the hos­pi­tal set­ting. It places the focus where it should be: on the needs and pref­er­ences of patients and on the unique sup­port role of care­giv­ing fam­i­ly mem­bers. For this to work, how­ev­er, patients and fam­i­lies need to have the right infor­ma­tion and to have health­care providers fol­low cer­tain prin­ci­ples relat­ed to this stan­dard of care. We've col­lect­ed these prin­ci­ples in the quick guide below. We call them the 3 R's for Safer Care Now™.
1. Know Your Rights
Spe­cif­ic rights of patients and fam­i­lies have become uni­ver­sal in the mod­ern hos­pi­tal set­ting. They are the keys to safer care and suc­cess­ful out­comes. If you are a patient, you have the right to expect:
To be

involved

in your care and the deci­sions that affect you.
To

know the name and pro­fes­sion­al des­ig­na­tion

of every­one who is per­form­ing care for you. More…
To give

con­sent

(or with­hold it) about med­ica­tion, tests and treat­ment, after being ful­ly informed by the appro­pri­ate health­care pro­fes­sion­al about the spe­cif­ic risks and ben­e­fits to you.
To have

fam­i­ly mem­bers present

dur­ing rounds and in all phas­es of care decision-making, and to have them advo­cate on your behalf as a patient, if you so wish. More…
To be

informed

about any changes in your con­di­tion or any harm or med­ical errors that occur, includ­ing "near miss­es" that were pre­vent­ed by time­ly inter­ven­tion.
To be

lis­tened to

atten­tive­ly when you have any con­cerns, and to have those con­cerns ful­ly and prompt­ly addressed.
To be treat­ed with

dig­ni­ty and respect

in all phas­es of care and by all health­care pro­fes­sion­als and hos­pi­tal employ­ees.
To have time­ly

access to your med­ical

records and to have their

pri­va­cy

safeguard­ed.
There is a say­ing some of the best health­care pro­fes­sion­als like to quote in describ­ing the role of the patient. It is: "Noth­ing about me with­out me." You and your fam­i­ly are full part­ners in every aspect of your care. You are enti­tled to have your rights to safe, informed and respect­ful care fol­lowed by every­one con­nect­ed with your hos­pi­tal­iza­tion. Speak up and remind them if you feel this is not hap­pen­ing.
2. Know the Risks Involved With Your Care
Safe care can nev­er be tak­en for grant­ed. Wise patients and fam­i­lies make them­selves aware of the risks of hos­pi­tal care so that they can reduce the chances of an adverse event. They also make sure that health­care pro­fes­sion­als are doing every­thing pos­si­ble to deliv­er safe care.
Med­ical errors and infec­tions hap­pen every day in hos­pi­tals. They claim thou­sands of lives, leave mil­lions injured and add bil­lions of dol­lars to the costs of our health­care sys­tems. They are the third lead­ing cause of death in both the Unit­ed States and Cana­da. More…
Most of these deaths and injuries are avoid­able. They involve med­ica­tion errors, falls, blood clots, pres­sure ulcers and surgery blun­ders.
Hospital-acquired infec­tions are a big killer. In the U.S., as many as 100,000 patients die every year from infec­tions they got in the hos­pi­tal. Cana­da has one of the worst records for man­ag­ing hospital-acquired infec­tions of all indus­tri­al­ized nations, accord­ing to the World Health Orga­ni­za­tion.
Vig­i­lance on the part of patients and fam­i­lies is an essen­tial med­ical tool to pre­vent injury, or worse, in the hos­pi­tal set­ting. Make your care team aware that you know about the dan­gers of hos­pi­tal harm. Ask what they're going to do to keep you safe.
Google the patient safe­ty record of the hos­pi­tal and check out any patient safe­ty scores. But remem­ber, what hos­pi­tals dis­close doesn't always present the full pic­ture. More…
Research world­wide has shown prop­er hand hygiene prac­tices to be one of the best ways to com­bat hos­pi­tal harm and cut hos­pi­tal infec­tions rates. More…There is no excuse for any­one cut­ting cor­ners here, because it is cut­ting cor­ners with

your

life.
Make sure you san­i­tize your hands often. Avoid touch­ing your mouth, face or eyes as much as pos­si­ble.
A safe patient is an informed patient. Hos­pi­tals per­form mir­a­cles every day. But too many fail to pre­vent break­downs in safe­ty and care that can lead to dev­as­tat­ing out­comes. Being alert to the risks can improve your chances of receiv­ing the care you need instead of the harm you want to avoid.
3. Know How to Respond Dur­ing Cri­sis Events
Things can go wrong for any­one, of any age, or in any state of health, dur­ing their hos­pi­tal­iza­tion. You need to know what to do if it does.
Patients and fam­i­lies bring a unique body of exper­tise to the bed­side that no health­care pro­fes­sion­al can match. You and your fam­i­ly are experts on you. Have con­fi­dence in that life-long expe­ri­ence in deter­min­ing whether you think some­thing is wrong.
Most impor­tant of all: If you see some­thing that doesn't look right or feel right, say some­thing.
As a patient or fam­i­ly mem­ber, you are enti­tled to have any mat­ters you raise about qual­i­ty of care and safe­ty tak­en seri­ous­ly. If you tell your care team that you are con­cerned about signs of a dete­ri­o­rat­ing con­di­tion, a med­ical error, or the onset of an infec­tion, ask if they record­ed that in the med­ical chart. Ask to see what was writ­ten and what is being done about it. Patients always have a right to see what is in their chart.
Ask if the hos­pi­tal has a rapid response pro­to­col or Code H (for help) that allows patients and fam­i­lies to urgent­ly sum­mon spe­cial­ly trained mem­bers of the health­care team to deal with a wor­ri­some or acute change in the patien­t's clin­i­cal con­di­tion. More…
Find out about how to make a com­plaint to the hospital's admin­is­tra­tion in the event that you're not get­ting the results you want on the floor or with the cur­rent health­care team. More…You should make sure you have this infor­ma­tion before a seri­ous sit­u­a­tion aris­es. Times of stress, cri­sis or exhaus­tion are nev­er the best occa­sions to search through hos­pi­tal web­sites.
The most heart-wrenching words from any patient or fam­i­ly are "I couldn't get any­one to lis­ten to me" before tragedy struck. Too many fam­i­lies are haunt­ed by the feel­ing that they did not do enough at the time when it might have made a dif­fer­ence. The Cen­ter for Patient

Pro­tec­tion

hears their sto­ries every day. Take a look at our snap­shots of hos­pi­tal harm. The thoughts are writ­ten in the words of patients and fam­i­lies still dev­as­tat­ed by what should have been pre­vent­ed. Don't be one of them.
The time to act is before irre­versible dam­age or injury occurs. The best advo­cate for the patient in any hos­pi­tal is the patient and/or fam­i­ly. You need to keep the harm out of hos­pi­tal care by being proac­tive at the first sign of con­cern.
Patients and fam­i­lies around the world, along with lead­ing hos­pi­tals and med­ical schools, have found our 3Rs for Safer Care to be a valu­able tool to enhance patient safe­ty. We hope you find this infor­ma­tion help­ful. You can find more details on our site about the issues raised here.
What Patients and Fam­i­lies Can Teach Hos­pi­tals About Avoid­ing Harm (Pub­lished in The Huff­in­g­ton Post)