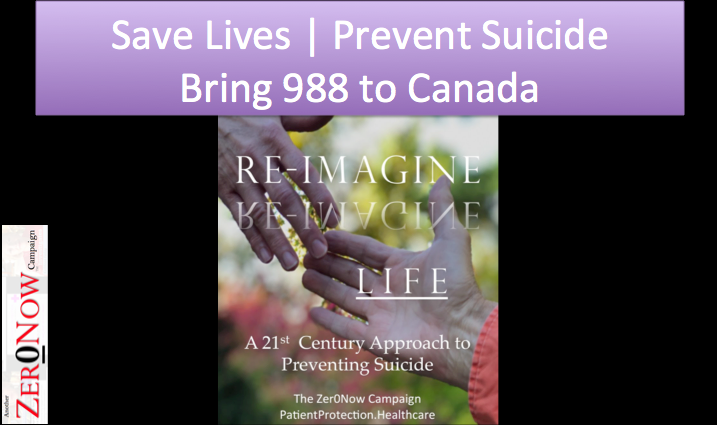 It's the 911 of Suicide Prevention.  988 can save lives.
Suicide in Canada and the United States is a public health emergency.  Self-harm is approaching epidemic levels among certain demographic groups. Among young people, suicide rates in the U.S. are now at the highest point this century. Similar disturbing trends are found in both Canada and the in United States among members of law enforcement, veterans and, in Canada, members of First Nations communities. Suicide is ranked by Statistics Canada as the ninth leading cause of death overall. It is the second leading cause of death for males between 15-44.
Visit our new site: The 988 Campaign for Canada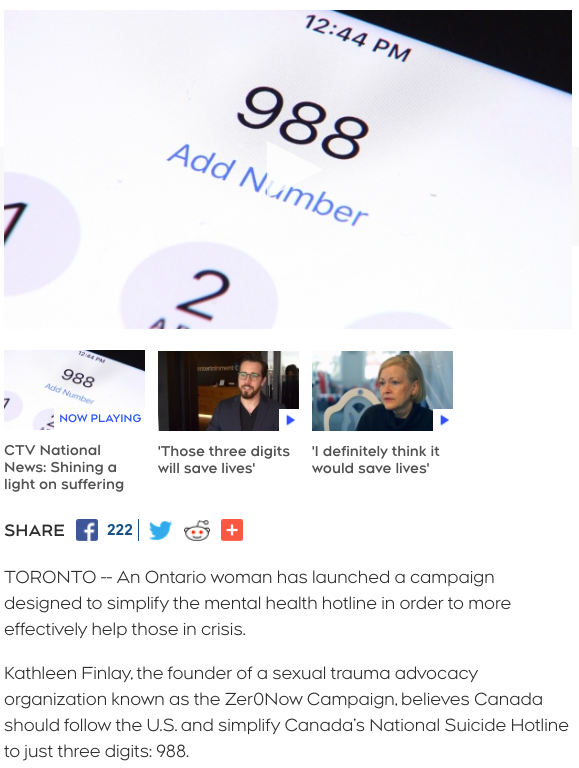 It is time to re-imagine our approach to suicide prevention. To that end, The Zer0Now Campaign and PatientProtection.Healthcare strongly support the adoption of a nation-wide 988 designated hotline number for suicide prevention. It should follow the model recommended by the U.S. FCC (see below), in the same way as the current 911 system was developed in the U.S. and adopted in Canada. Following the FCC's recommendations, a group of U.S. Senators endorsed the concept on a fully bi-partisan basis. 
Experts, like famed Columbia University psychologist Madelyn Gould, say that this three digit N11 system can save lives by making support services easier to recall and faster access. In times of personal crisis, seconds make all the difference. Being able to talk with a counsellor in real time over the telephone has been shown to produce positive outcomes in preventing suicide at the time. We need lawmakers, telecom regulators and phone companies, and advocates to move this life-saving idea forward without delay.
On Twitter show your support by using this hashtag: #Bring988toCanada.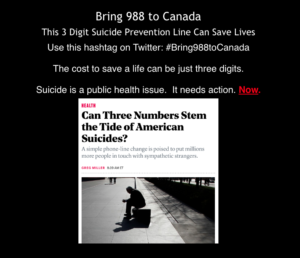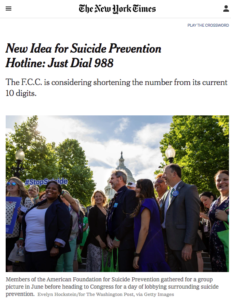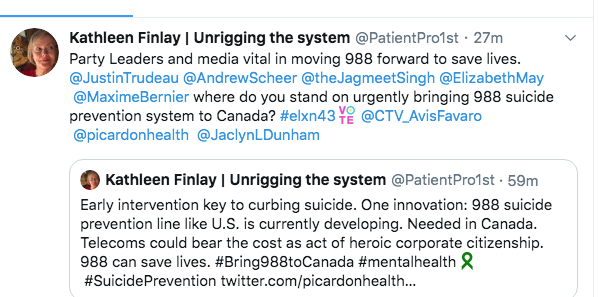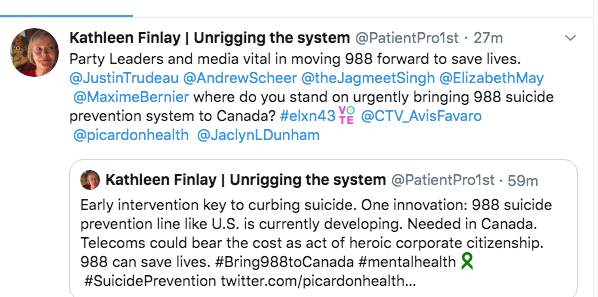 RELATED
Recent op-eds and media appearances by Kathleen Finlay on preventing suicide 
Kathleen Finlay's interview on CTV National News
Full FCC Staff Report Recommending Creation of 988 Suicide Prevention Hotline (70 pages)
A Roadmap for the Government to Act Against Gender-based Violence
Stop Sexual Misconduct from Being Fatal