If you knew a dead­ly epi­dem­ic was com­ing to your com­mu­ni­ty, you would be con­cerned, wouldn't you? Well, that epi­dem­ic is already here. And it claims hun­dreds of thou­sands of patients in the Unit­ed States and Cana­da every year. Many times that num­ber are severe­ly injured, even per­ma­nent­ly dis­abled. The cause? Med­ical errors in the hos­pi­tal set­ting.
Med­ical errors harm patients at every care func­tion
Shock­ing­ly, hos­pi­tal harm is the third lead­ing cause of death in the U.S. and Cana­da. One-in-three patients will expe­ri­ence harm dur­ing their hos­pi­tal stay, accord­ing to recent U.S. stud­ies. The most com­mon caus­es of hos­pi­tal harm are med­ica­tion errors (for exam­ple, being giv­en the wrong drug, or the right drug in the wrong dose); infec­tions (which can result from improp­er clean­ing of med­ical instru­ments or con­tact with health­care work­ers who haven't washed their hands); falls (often a side-effect of med­ica­tion); blood clots; and sur­gi­cal errors (for exam­ple, leav­ing sponges or oth­er instru­ments in the body, or oper­at­ing on the wrong part of the body).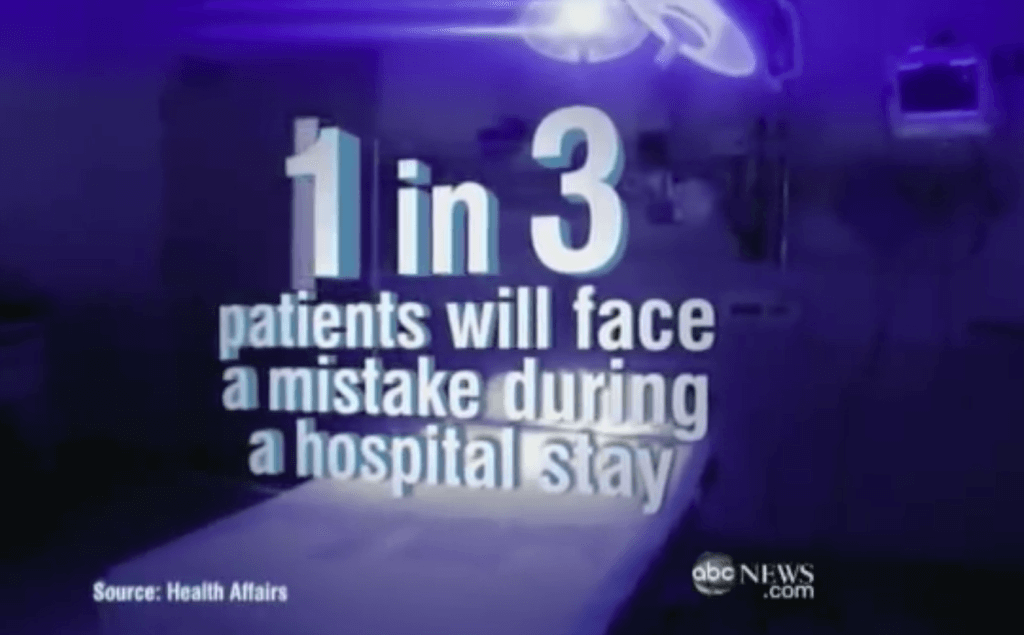 The hos­pi­tal com­mu­ni­ty and the health­care pro­fes­sions have been aware of the prob­lem of med­ical errors for some time. But it was not until 1999, and a report by the pres­ti­gious Insti­tute of Med­i­cine, that the issue was brought more sharply into pub­lic focus. That report sound­ed the first real alarm about avoid­able deaths caused by hos­pi­tal harm and attempt­ed to gal­va­nize pub­lic opin­ion. As you will see from the accom­pa­ny­ing video sum­ma­ry of a hear­ing held by the U.S. Sen­ate in July of 2014, the prob­lem has become worse, not bet­ter, over the years.
Harm­ful care is more expen­sive than safe care
Med­ical errors car­ry a big price tag — at least $20 bil­lion annu­al­ly in the U.S. alone (com­pa­ra­ble Cana­di­an fig­ures are not avail­able). Some actu­ar­i­al experts put the cost clos­er to one tril­lion dol­lars. That's mon­ey that could have been used to hire more nurs­es or pur­chase life-saving ther­a­pies and tech­nolo­gies. Instead, it's being used to treat the harm­ful effects of con­di­tions that nev­er should have occurred in the first place. The emo­tion­al cost to patients and fam­i­lies is beyond cal­cu­la­tion. We hear about them every day. What makes all of this so much more trag­ic is that the harm caused by med­ical errors and break­downs in care is, for the most part, pre­ventable.
Every­one is impact­ed by the epi­dem­ic of med­ical errors
If you haven't been direct­ly touched by hos­pi­tal harm, maybe you know a fam­i­ly who has been. As a tax­pay­er, or an employ­er that pro­vides health­care ben­e­fits, you prob­a­bly don't like see­ing good mon­ey wast­ed, either. How­ev­er you look at it, this epi­dem­ic is your busi­ness.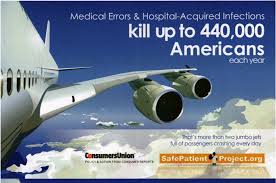 And each voice can make a dif­fer­ence in mak­ing care safer
It's time to take the harm out of hos­pi­tal care. This epi­dem­ic won't end until more of us stand up and demand the safe care we have all been promised. Hos­pi­tals know how to stop the harm being done to patients. Some have made great progress already. And more robust trans­paren­cy and account­abil­i­ty would help oth­ers to fol­low. That's why The Cen­ter for Patient Pro­tec­tion has launched its cam­paign Keep Me Safe — Make Patient Pro­tec­tion 1stSM.
But the real cure for this epi­dem­ic starts with you. Make your­self informed about the facts. Read about the trag­ic expe­ri­ences of oth­er fam­i­lies told in their own voic­es. Become a cham­pi­on for patient safe­ty to make Patient Pro­tec­tion 1stSM. Write to your elect­ed rep­re­sen­ta­tives in the state or province where you live. Con­tact elect­ed fed­er­al offi­cials. Take up the cause on social media. Insist upon change. Above all, don't wait until you or a loved one are harmed by an epi­dem­ic of med­ical errors that is avoid­able.
You may not have any med­ical train­ing, but you can play a huge role in stamp­ing out this killer epi­dem­ic.
You'll be glad you did.