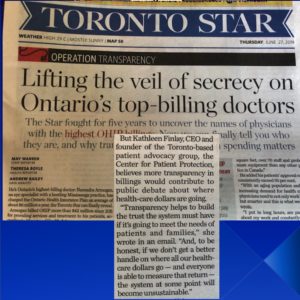 From the Toron­to Star's May War­ren's inter­view with Kath­leen Fin­lay
— June 2019
I've been push­ing for greater trans­paren­cy at all lev­els of health care for some time — every­thing from hos­pi­tal safe­ty rat­ings and med­ical error dis­clo­sure to a nation­al data bank for dis­ci­pli­nary actions/decisions involv­ing pro­fes­sion­al mis­con­duct and, impor­tant­ly, sex­u­al abuse of patients.

I've seen a real sea change in recent years in the atti­tudes of patients and fam­i­lies. They know that being an empow­ered patient leads to bet­ter health care out­comes. Infor­ma­tion is empow­er­ing. There is a thirst for much more infor­ma­tion at all lev­els of our health care sys­tem.

No doubt a sun­shine law for physi­cian billings would help open the cur­tains and lead to a bet­ter under­stand­ing of costs and ben­e­fits for one of the largest out­lays of tax­pay­er funds at fed­er­al and provin­cial lev­els.

But trans­paren­cy also needs to extend to the dis­clo­sure of mon­e­tary and oth­er ben­e­fits from drug com­pa­nies and med­ical device man­u­fac­tur­ers, which can be a sig­nif­i­cant moti­va­tor (from the patient's per­spec­tive, at any rate) to doc­tors in terms of the deci­sions they make about patient care.

Too much in our health care sys­tem still oper­ates in the shad­ows and behind closed doors. Trans­paren­cy helps to build the trust the sys­tem must have if it's going to meet the needs of patients and fam­i­lies. And, to be hon­est, if we don't get a bet­ter han­dle on where all our health­care dol­lars go — and every­one is able to mea­sure that return — the sys­tem at some point will become unsus­tain­able.