Canada's Mental Health system is broken.  
Here's what PatientProtection.Healthcare is doing to help fix it.
Our mental-health care system needs radical surgery.  It's needed in how 911 calls for emotional crisis are answered and in streamlining cumbersome suicide prevention hotline systems into just three numbers like a new 988 three-digit mental health distress and suicide prevention lifeline for all of Canada.  But it's also needed in the way many organizations, often without realizing, inflict life-altering emotional harm and distress, such as how many healthcare providers respond when patients and families raise concerns about medical errors.  For some of our most prized institutions, like Canada's military and RCMP, having caused so much emotional and physical injury to women through workplace violence and sexual harassment requires nothing less than a shift from a gender-related culture of institutional betrayal to one, which PatientProtection.Healthcare's founder Kathleen Finlay, describes as institutional compassion.  
PatientProtection.Healthcare has been working hard to provide innovative solutions to respond to the pressing need for new thinking in mental-health care. The coronavirus pandemic has revealed startling failures in our social safety nets that have left too many behind.  Even before the pandemic, mental health in Canada was seen as the poor cousin of the overall healthcare system, being able to serve the needs of only a portion of those who required mental health support.  Lockdowns and other strains caused by the virus placed even more pressure on a broken system.  
In a series of national news interviews and op-eds, Kathleen introduced Canada to the idea of a three-digit emotional crisis/suicide prevention lifeline using the number 9-8-8.  In December of 2020, the House of Commons voted to endorse the proposal. Kathleen was among the first to call upon the federal government to up its game in responding to the mental-health needs of Canadians during the first wave of the pandemic.  She was also the first to propose the creation of a federal minister for mental health.  Those efforts resulted in the creation of a federally-sponsored wellness portal, and, more recently, the appointment of Canada's first federal minister of mental health and addiction.  Kathleen has also called on the federal government to launch a national task force to examine ways of re-building Canada's compassion infrastructure so that the most vulnerable are no longer left behind. (See our campaign to have the GIS for low income seniors restored as one more example of where the absence of institutional compassion is leaving some of the poorest seniors at risk of physical and mental harm.)
Everything we do is grounded in an extensive knowledge base of lived experiences on the part of those who have reached out to share their stories of pain and harm over the the past decade. Check out our op-eds and media interviews below.  Look at the menu above for more on mental health.  Let us know what you think about our ideas, and our proposal that, in Canada, compassion needs to become the new normal.
~We're working to protect the most vulnerable by ensuring that the federal government responds to the impact of the pandemic on the mental health of Canadians with the attention it deserves.
~We're helping seniors and our elderly, who are at the highest risk of serious health outcomes from the virus.
~We're protecting Canadians from the risk of suicide, with long-needed new technology like 9-8-8.
">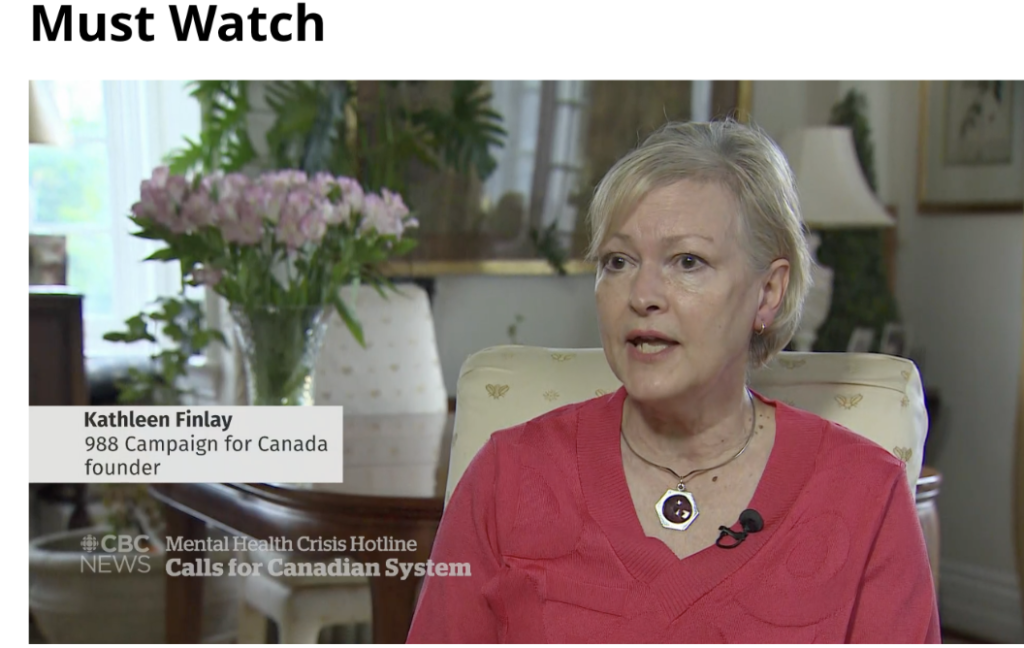 See Kathleen Finlay's landmark interview on CTV National News, where chief anchor Lisa LaFlamme introduced Kathleen's campaign to bring 9-8-8 suicide prevention technology to Canada. After Kathleen's repeated pleas to MPs, Senators and cabinet ministers to back the introduction of 9-8-8, the House of Commons finally voted, after more than a year, to support the idea. Only one MP participated in the debate. No one else said a word. No mention was made by anyone of the family-victim-survivor campaign that brought this life-saving innovation to Canada.
See complete interview and story on CTV National News.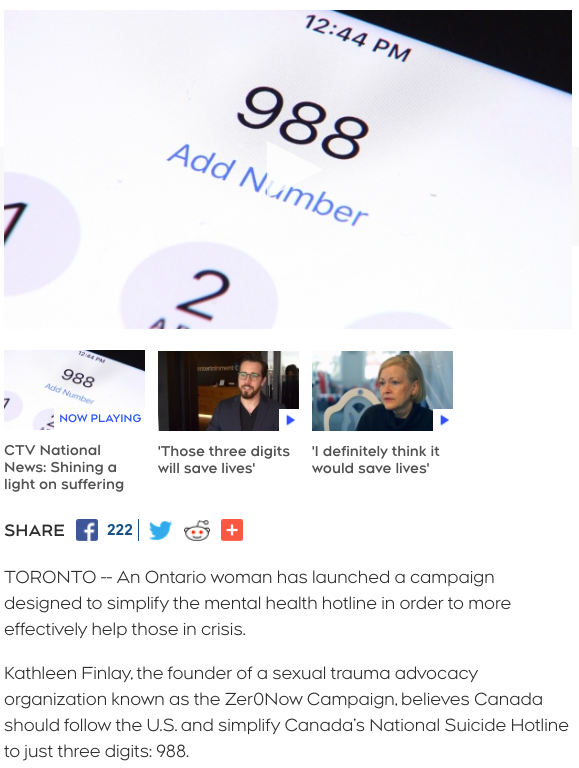 Suicide is becoming an epidemic among some population groups in Canada. Victims of gender-based violence and bullying are especially at risk, as are members of our indigenous communities. The Center for Patient Protection and PatientProtection.Healthcare call for a new approach and fresh thinking to address this public health crisis, including the creation of a national three-digit 988 suicide prevention hotline network. More ideas are set out in the piece below.