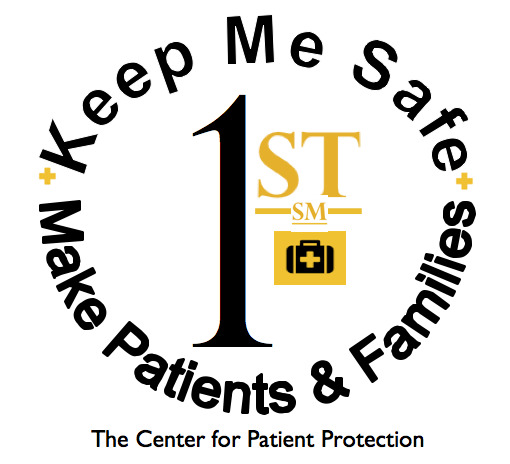 Keep Me Safe Make Patients & Fam­i­lies 1st
We would­n't tol­er­ate jum­bo jets crash­ing every week or bridges col­laps­ing and tak­ing tens of thou­sands with them every month. So why do we accept med­ical errors in the hos­pi­tal set­ting which claim, in the U.S. and Cana­da com­bined, hun­dreds of thou­sands of lives every year?
Med­ical errors rep­re­sent the third lead­ing cause of death in both coun­tries and claim more lives than stroke, Alzheimer's, kid­ney dis­ease, breast can­cer, and acci­dents involv­ing trains, air­lines and auto­mo­biles, com­bined.
More than 40,000 harm­ful events occur in U.S. hos­pi­tals every day. The chance of being harmed in a hos­pi­tal set­ting is placed at one in three, accord­ing to a respect­ed study. The pres­ti­gious Insti­tute of Med­i­cine (IOM) pre­dict­ed that most Amer­i­cans will be the vic­tim of a wrong med­ical diag­no­sis in their life­times, each with the poten­tial for dev­as­tat­ing con­se­quences.
The costs of these errors and break­downs in patient safe­ty reach well into the multi-billions of dol­lars. But the emo­tion­al harm to fam­i­lies, includ­ing the after­math of events where patients and fam­i­lies seek rea­sons for what hap­pened and fre­quent­ly encounter a wall of silence from the hos­pi­tal involved, is beyond cal­cu­la­tion.
While efforts have been made over the years to reduce the scale and impact of this epi­dem­ic, it is clear that there has not been enough progress. As Sir Liam Don­ald­son, M.D., one of the lead­ing thinkers on patient safe­ty, has said,…
Too many health­care orga­ni­za­tions espouse the goal of safer care while regard­ing harm as the cost of doing busi­ness.
The Cen­ter for Patient Pro­tec­tion believes that suf­fi­cient progress will not be made until pub­lic con­cern reach­es the point where leg­is­la­tors, pol­i­cy mak­ers and health­care providers treat the epi­dem­ic of hos­pi­tal harm as the health­care emer­gency it is.
Here's what we're doing.
We're work­ing to put the focus back on the patient and fam­i­ly.
Our sig­na­ture pro­gram, the cam­paign to Keep Me Safe Make Patients & Fam­i­lies 1stSM, seeks to direct­ly engage the pub­lic, health­care pol­i­cy mak­ers, leg­is­la­tors, health­care pro­fes­sion­als and patients and fam­i­lies in a more robust exam­i­na­tion of the caus­es of med­ical errors and solu­tions to reduce them.
Our cam­paign builds on The Cen­ter's ongo­ing inter­ac­tions with patients and sur­viv­ing fam­i­ly mem­bers who share a com­mon voice in seek­ing to change health­care sys­tems that pro­duce too much avoid­able harm and emo­tion­al trau­ma, by requir­ing high­er stan­dards of trans­paren­cy and account­abil­i­ty in every aspect of patient and fam­i­ly inter­ac­tion. We've cre­at­ed a suite of inno­v­a­tive tools, and bold pol­i­cy pre­scrip­tions, to improve health­care out­comes, pro­mote patient safe­ty and empow­er patients and fam­i­lies, based on our huge accu­mu­lat­ed knowl­edge base of patient and fam­i­ly expe­ri­ences that have been shared with us since 2012.
Recent­ly, we added to our pub­lic pol­i­cy health­care advo­ca­cy the call for a nation­al strat­e­gy to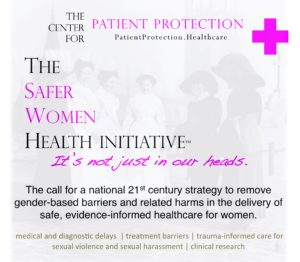 remove gender-based dis­par­i­ties in health­care for women. It is an impor­tant ini­tia­tive intend­ed to address long evi­denced bar­ri­ers and stereo­types that add to the health risks women face and pro­duce unac­cept­able lev­els of pre­ventable harm. You can read more about it here.
And we oper­ate the world's first Online Out­reach Clin­ic that has helped the most vul­ner­a­ble patients and fam­i­lies in every­thing from show­ing them how to obtain their med­ical records to inter­ven­ing with the hos­pi­tal care team to repair seri­ous break­downs in com­mu­ni­ca­tion.
Very often des­per­ate patients and fam­i­lies fac­ing life and death sit­u­a­tions tell us they have nowhere else­where to turn. That hap­pens a lot in the mid­dle of the night, on week­ends and on hol­i­days. We have always answered that call for help. We have nev­er charged for this ser­vice.
The pages on this site pro­vide a rich back­ground of fur­ther infor­ma­tion, resources and val­ues that dri­ve our cam­paign and inform our sense of urgency in cham­pi­oning change and the cause of so many patients and fam­i­lies who have been harmed. Please take the time to learn more about this impor­tant chal­lenge.
If you agree that more needs to be done to end the epi­dem­ic of hos­pi­tal harm that is killing patients, dev­as­tat­ing fam­i­lies and adding need­less costs to our health­care sys­tems every day, we would like to hear from you. Tell us what you think, and how you would like to help. Become a cham­pi­on for bet­ter patient safe­ty and join our cam­paign to Keep Me Safe Patient & Fam­i­lies 1st. Share your sto­ry about hos­pi­tal harm. You can change the lives of count­less patients and fam­i­lies for the bet­ter. Maybe even your own.
Con­sid­er mak­ing a dona­tion, since all of The Cen­ter for Patient Pro­tec­tion's great work is being done with­out any gov­ern­ment fund­ing or provider sup­port. All of the oper­at­ing costs of The Cen­ter and its Online Out­reach Clin­ic are paid by its founder, Kath­leen Fin­lay.
All our lives are touched by the qual­i­ty of health­care we and our loved ones receive. We think our cam­paign answers the ques­tion posed by a great cham­pi­on of the com­pas­sion­ate con­science, and which no tru­ly civ­i­lized per­son can turn from answer­ing.