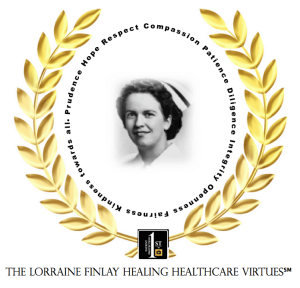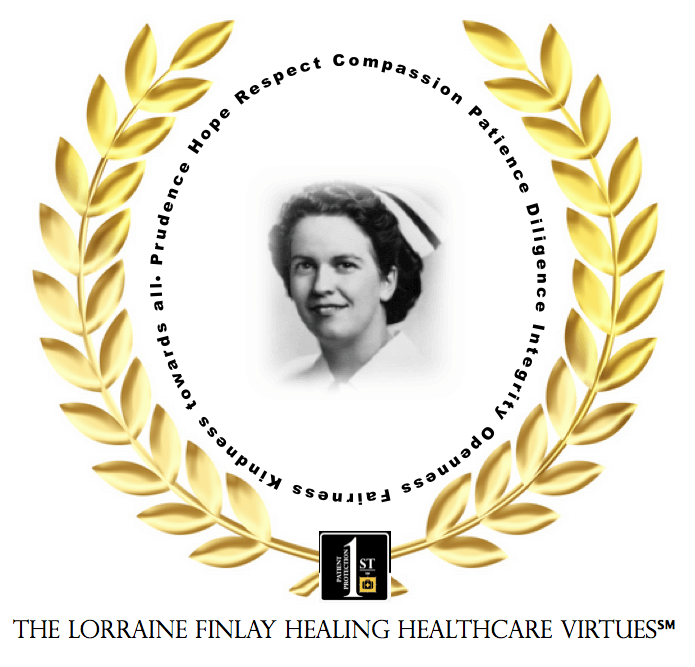 The Cen­ter for Patient Pro­tec­tion is guid­ed in every­thing we do by what we call The Lor­raine Fin­lay Heal­ing Health­care VirtuesSM of Pru­dence, Hope, Respect, Com­pas­sion, Patience, Dili­gence, Integri­ty, Open­ness, Fair­ness, Kind­ness towards all.
These are the val­ues that per­son­al expe­ri­ence, research and con­ver­sa­tions with patients and fam­i­lies around the world have told us are piv­otal in deliv­er­ing safer, more affirm­ing care for patients and fam­i­lies. Yet often they are glar­ing­ly absent when it comes to the hos­pi­tal expe­ri­ence of patients and fam­i­lies, in pre­vent­ing harm, and in deal­ing open­ly and fair­ly with its after­math.
Pru­dence, Hope, Respect, Com­pas­sion, Patience, Dili­gence, Integri­ty, Open­ness, Fair­ness, Kind­ness towards all.
They are named after Lor­raine Fin­lay, the late moth­er of The Cen­ter for Patient Protection's founder, Kath­leen Fin­lay. Dur­ing her half‐year‐long admis­sion at two hos­pi­tals, more doc­u­ment­ed med­ical errors were inflict­ed on Lor­raine than on any patient in the his­to­ry of patient safe­ty lit­er­a­ture. She suf­fered repeat­ed life‐threatening adverse med­ica­tion events, painful pres­sure ulcers, ventilator‐associated pneu­mo­nia, aspi­ra­tion pneu­mo­nia and a car­diac arrest that caused per­ma­nent dis­abil­i­ty. Ulti­mate­ly, she was left severe­ly mal­nour­ished and the hos­pi­tal pro­nounced her demise "immi­nent." Both hos­pi­tals refused to acknowl­edge any harm or errors and claimed, through their lawyers, that all care was "appro­pri­ate." They insist­ed that her demise was immi­nent and hope for any recov­ery was unrea­son­able.
Believ­ing in the right to try, and not will­ing just to give up and die, Lor­raine and her fam­i­ly worked togeth­er and put these heal­ing health­care virtues to work to achieve what also set med­ical records in her recov­ery. She went on to live anoth­er six years and enjoyed a life full of love, music, con­ver­sa­tion, reg­u­lar food and the joys of her fam­i­ly, friends, gar­den and pets, until she took her last breath in the same home where she drew her first 95 years ear­li­er. Such is the pow­er of the heal­ing health­care virtues that bear her name.
These virtues are the evo­lu­tion of the same heal­ing val­ues Lor­raine exem­pli­fied as a nurse trained dur­ing World War II, and for which she became known in her care of return­ing vet­er­ans and which she deliv­ered with unstint­ing devo­tion through­out her career. Unfor­tu­nate­ly, the hos­pi­tal where she deliv­ered that heal­ing care was one of the facil­i­ties that inflict­ed so much harm on her and lat­er sought to evade any account­abil­i­ty for it.
When patients and fam­i­lies insist upon these virtues being reflect­ed in every aspect of health­care and hos­pi­tal inter­ac­tion, and providers ensure they are deliv­ered in every­thing they do, we believe the expe­ri­ence will be safer and more ful­fill­ing for every­one.
You might even dis­cov­er a mir­a­cle or two awaits, just as it did for Lor­raine.