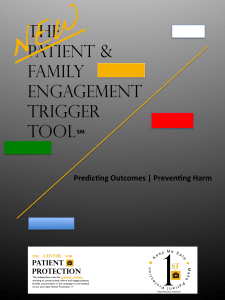 Pre­dict­ing Out­comes | Pre­vent­ing Harms
Engag­ing patients and fam­i­lies in a respect­ful, col­lab­o­ra­tive man­ner, where infor­ma­tion is shared and where they are encour­aged to par­tic­i­pate in all aspects of care, is a key to more suc­cess­ful hos­pi­tal out­comes. It can also lead to a reduc­tion in the risk of harms when vital infor­ma­tion known to patients and fam­i­lies is prop­er­ly cap­tured and act­ed upon in a time­ly man­ner.
Until now it has been a chal­lenge for even for the best providers to strate­gi­cal­ly pin­point where the most vital inter­ac­tions with patients and fam­i­lies occur, let alone iden­ti­fy red flags that could presage both phys­i­cal and emo­tion­al adverse out­comes.
Our new Patient and Fam­i­ly Engage­ment Trig­ger ToolSM sys­tem­at­i­cal­ly sets out strate­gic points in the care tra­jec­to­ry where crit­i­cal oppor­tu­ni­ties arise in real time to avoid both med­ical and emo­tion­al harm and there­by fos­ter more patient‐centered care.
By cap­tur­ing the strate­gic pre­dic­tive infor­ma­tion that comes unique­ly from patients and fam­i­lies — typ­i­cal­ly in the form of patient and fam­i­ly ini­ti­at­ed inter­ven­tions — and act­ing accord­ing to proven prac­tices that build con­fi­dence and enhance trans­paren­cy, providers help patients and fam­i­lies to enjoy a safer and more pos­i­tive hos­pi­tal expe­ri­ence. Risks to the organization's rep­u­ta­tion and legal stand­ing which arise with adverse out­comes are sig­nif­i­cant­ly reduced when health­care providers engage in time­ly, proac­tive inter­ven­tions and imple­ment robust patient and fam­i­ly cen­tered pro­to­cols.
The first of its kind, we believe our proprietary‐based Patient and Fam­i­ly Engage­ment Trig­ger ToolSM, is a game‐changer that can move the nee­dle dra­mat­i­cal­ly in the direc­tion of greater patient safe­ty and true patient and family‐centered care.
It is a tool every provider, clin­i­cal leader and hos­pi­tal risk man­ag­er will find indis­pens­able.
For infor­ma­tion on avail­abil­i­ty and pric­ing, con­tact Kath­leen Fin­lay direct­ly.