[two_third]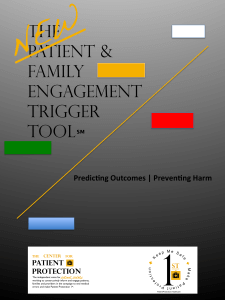 Predicting Outcomes | Preventing Harms
Engaging patients and families in a respectful, collaborative manner, where information is shared and where they are encouraged to participate in all aspects of care, is a key to more successful hospital outcomes. It can also lead to a reduction in the risk of harms when vital information known to patients and families is properly captured and acted upon in a timely manner.
Until now it has been a challenge for even for the best providers to strategically pinpoint where the most vital interactions with patients and families occur, let alone identify red flags that could presage both physical and emotional adverse outcomes.
Our new Patient and Family Engagement Trigger ToolSM systematically sets out strategic points in the care trajectory where critical opportunities arise in real time to avoid both medical and emotional harm and thereby foster more patient-centered care.
By capturing the strategic predictive information that comes uniquely from patients and families — typically in the form of patient and family initiated interventions — and acting according to proven practices that build confidence and enhance transparency, providers help patients and families to enjoy a safer and more positive hospital experience. Risks to the organization's reputation and legal standing which arise with adverse outcomes are significantly reduced when healthcare providers engage in timely, proactive interventions and implement robust patient and family centered protocols.
The first of its kind, we believe our proprietary-based Patient and Family Engagement Trigger ToolSM, is a game-changer that can move the needle dramatically in the direction of greater patient safety and true patient and family-centered care.
It is a tool every provider, clinical leader and hospital risk manager will find indispensable.
For information on availability and pricing, contact Kathleen Finlay directly.
[/two_third][one_third_last]
[/one_third_last]