Kath­leen Fin­lay is CEO of The Cen­ter for Patient Pro­tec­tion. She found­ed The Cen­ter after a hor­rif­ic hos­pi­tal expe­ri­ence which saw her elder­ly moth­er sub­ject­ed to a record num­ber of med­ical errors and a car­diac arrest fol­low­ing a seri­ous break­down in care at Canada's largest teach­ing hos­pi­tal. After becom­ing the voice for her moth­er in seek­ing safer care, she became the voice for count­less patients and fam­i­lies around the world who have known the same kind of suf­fer­ing, or are seek­ing ways to avoid it.
In the sev­en years since The Center's incep­tion, Kathleen's inspir­ing writ­ing, tire­less advo­ca­cy for the most vul­ner­a­ble in the health­care set­ting and ground­break­ing ideas for improv­ing patient safe­ty have made her a much‐quoted fig­ure in the patient safe­ty move­ment.
A par­tic­u­lar focus of her research and advo­ca­cy has includ­ed the design and use of true 21st‐century patient and fam­i­ly engage­ment prac­tices to com­bat med­ical errors and the role that the col­lec­tive wis­dom of patient and fam­i­ly expe­ri­ences plays in help­ing providers to achieve bet­ter out­comes.
Kath­leen is a fear­less cham­pi­on of elim­i­nat­ing gender‐based bar­ri­ers that pre­vent women from obtain­ing the qual­i­ty of care they need. She found­ed the Safer Women Health Ini­tia­tive to raise aware­ness about the life‐altering health­care prac­tices and out­comes that see too many women harmed — just because they are women.
Kathleen's work also focus­es on the seri­ous and under­re­port­ed impacts on women's emo­tion­al and phys­i­cal health caused by sex­u­al vio­lence and sex­u­al harass­ment.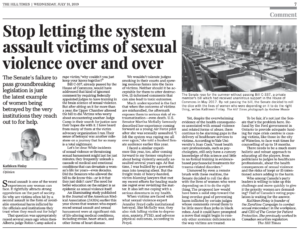 She is a vig­or­ous advo­cate of a health­care cul­ture that is open, respect­ful and sup­port­ive of patients and fam­i­lies, where apol­o­gy and expla­na­tions for med­ical break­downs become com­mon, and the deny and defend form of insti­tu­tion­al betray­al that still occurs in the after­math of med­ical harm becomes a thing of the past.
Her pro­fes­sion­al work has also focused on strength­en­ing trans­paren­cy and account­abil­i­ty mech­a­nisms as they relate to patient safe­ty, pro­fes­sion­al mis­con­duct and the han­dling by the reg­u­lat­ed health pro­fes­sions dis­ci­pli­nary and appeal bod­ies of patient com­plaints, includ­ing physi­cian sex­u­al mis­con­duct and sex­u­al abuse.
Kath­leen oper­ates the only online out­reach clin­ic of its kind, which over the years has answered the call of thou­sands of patients and fam­i­lies world­wide who are seek­ing help in nav­i­gat­ing through the health­care bar­ri­ers that often deprive them of the answers they need in the face of unex­plained or unac­count­ed for med­ical fail­ures. While those who have reached out to her have typ­i­cal­ly been the most vul­ner­a­ble in the health­care set­ting, espe­cial­ly the elder­ly and the finan­cial­ly dis­ad­van­taged, they have also includ­ed nurs­es and doc­tors who have been per­son­al­ly dev­as­tat­ed by their expe­ri­ences. Kath­leen has nev­er charged any patient or fam­i­ly mem­ber for this sup­port.
Alarmed about the seri­ous and often life‐threatening short­com­ings that exist in the way women receive med­ical care, Kath­leen cre­at­ed The Safer Women Health Ini­tia­tive™ to raise aware­ness about spe­cif­ic diag­nos­tic, cul­tur­al and com­mu­ni­ca­tion obsta­cles women face that com­pro­mise their med­ical con­di­tion.
A long‐time cham­pi­on of equal­i­ty, Kath­leen is founder of The ZeroNow Cam­paign™ which sup­ports and advo­cates for vic­tims of sex­u­al vio­lence and sex­u­al harass­ment, and spear­heads ini­tia­tives with gov­ern­ments and pol­i­cy mak­ers to reduce sex­u­al mis­con­duct and its impact.
The ZeroNow Cam­paign™ sup­ports vic­tims through all stages of their expe­ri­ence and heal­ing jour­ney, using the com­bined nar­ra­tives of sur­vivors to empow­er vic­tims in their recov­ery. Through its fear­less advo­ca­cy and bold bar‐raising ini­tia­tives, The ZeroNow Cam­paign™ makes a sig­nif­i­cant dif­fer­ence in the lives of every­day women every day.
Kathleen's advo­ca­cy work before the House of Com­mons in 2018 led the Cana­di­an gov­ern­ment to adopt key changes in the han­dling of sex­u­al vio­lence and sex­u­al harass­ment (Bill C‐65) in fed­er­al­ly reg­u­lat­ed enti­ties, along with a sun­light pro­vi­sion to improve the dis­clo­sure and trans­paren­cy of inci­dent sta­tis­tics. She was called upon to advise the Cana­di­an Sen­ate on the leg­is­la­tion and her work has been cit­ed in debates in the House of Com­mons.
Known for her sig­na­ture skills in strate­gic com­mu­ni­ca­tion and pol­i­cy inno­va­tion, Kath­leen held senior posi­tions in inter­gov­ern­men­tal affairs, finance and the reg­u­la­tion of Canada's cap­i­tal mar­kets. Over two decades, she advised cab­i­net min­is­ters and top gov­ern­ment offi­cials on the review and devel­op­ment of major pol­i­cy ini­tia­tives and leg­is­la­tion, includ­ing the cre­ation of the flag­ship leg­is­la­tion that saw the Ontario Secu­ri­ties Com­mis­sion tran­si­tioned to a self‐funding body. She was sub­se­quent­ly sought out to join the OSC's exec­u­tive man­age­ment team, where she also held respon­si­bil­i­ty for the coor­di­na­tion of nation­al secu­ri­ties reg­u­la­tion.
She holds a B.A. (Hons) from Vic­to­ria Uni­ver­si­ty and an M.A. with first class stand­ing from the Uni­ver­si­ty of Toron­to. Kath­leen is a pub­lished author on Ontario leg­isla­tive his­to­ry. Ear­li­er in her pro­fes­sion­al career she pro­vid­ed lead research for the best‐selling Cana­da and the Rea­gan Chal­lenge, con­sid­ered one of the fore­most con­tem­po­rary stud­ies of Canada-U.S. rela­tions, and con­tributed major research for the icon­ic polit­i­cal best‐seller, Grits: An Inti­mate Por­trait of the Lib­er­al Par­ty.
Kathleen's authen­tic and pas­sion­ate voice have made her a sought‐after com­men­ta­tor in the media. Since 2012, she has been a reg­u­lar con­trib­u­tor to The Huff­in­g­ton Post and has writ­ten op‐ed pieces for The Hill Times, Now Mag­a­zine and the Times Colonist. She recent­ly appeared on the CTV Nation­al News and the Glob­al Radio Net­work.
Con­tact Kath­leen Fin­lay Now