The prog­no­sis for the IOM's newest bomb­shell on diag­nos­tic errors is not encour­ag­ing. Its first report in 1999 on med­ical errors promised a 50 per­cent reduc­tion in 5 years. Since then the num­ber of deaths has soared to the point where hos­pi­tal harm is the third lead­ing cause of death in the U.S. and Cana­da.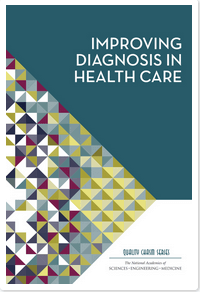 (Pub­lished in The Huff­in­g­ton Post, Octo­ber 1, 2015)
What if a high­ly cred­i­ble study revealed that, because of safe­ty fail­ures among auto­mo­bile mak­ers, most dri­vers will be involved in an acci­dent in their life­time, often with dev­as­tat­ing con­se­quences. Shock? Pub­lic out­rage? Politi­cians demand­ing action?
All of the above would like­ly hap­pen, and quick­ly.
But when the pres­ti­gious Insti­tute of Med­i­cine (IOM) revealed last week that most Amer­i­cans will at some point be affect­ed by a diag­nos­tic error, often with adverse effects to their health, no such sen­ti­ments were not­ed. Even with the stun­ning fact that 1 in 10 patient deaths is esti­mat­ed to be caused by errors in diag­no­sis, the main­stream media cov­ered the sto­ry for a day. And then moved on.
Unfor­tu­nate­ly, Amer­i­cans who expect safe health­care can't do that. As for Cana­di­ans, once again they're left total­ly in the dark on the sub­ject, since there are no avail­able esti­mates of the extent of diag­nos­tic errors in this coun­try.
The report, called Improv­ing Diag­no­sis in Health­care, comes a decade‐and‐a‐half after the IOM's land­mark study on med­ical errors in the U.S. At that time, the Insti­tute esti­mat­ed that up to 100,000 Amer­i­cans are killed in the clin­i­cal set­ting every year because of med­ical errors. But what hap­pened after the release of that report does not bode well for this lat­est, and even poten­tial­ly more impact­ful, bomb­shell.
The first IOM report set a min­i­mum goal of reduc­ing hos­pi­tal errors by 50 per­cent over the next five years. That was in 1999. Not only was the tar­get not met, but the num­ber of med­ical mis­takes sub­stan­tial­ly increased. By 2010, a report from the Office of Inspec­tor Gen­er­al for the Depart­ment of Health and Human Ser­vices warned that bad hos­pi­tal care con­tributed to the deaths of 180,000 patients in Medicare alone in any giv­en year.
More research led to the dis­cov­ery of even high­er num­bers, includ­ing the esti­mate in 2013 by John T. James, a NASA sci­en­tist who lost his son to a fatal diag­nos­tic mis­take, which put the num­ber of deaths from med­ical errors in the U.S. as high as 440,000 each year. This makes med­ical errors, most of which occur in the hos­pi­tal set­ting, the third lead­ing cause of death in Amer­i­ca.
Add to that fig­ure the num­ber of U.S. patients harmed by hos­pi­tal errors, which is esti­mat­ed to be 15 mil­lion each year, and you have to ask what real­ly was the impact of this 1999 report, which most health­care experts describe as ground­break­ing.
Cana­di­an esti­mates have placed the num­ber of deaths from med­ical errors and hos­pi­tal acquired infec­tions as high as 63,000 annu­al­ly. Even a low­er fig­ure, pro­vid­ed by the Uni­ver­si­ty Health Net­work, of more than 30,000 deaths in 2014 from med­ical errors should be enough to send up red flags in front of every Cana­di­an hos­pi­tal.
But Cana­da has tra­di­tion­al­ly been slow to wake up to these poten­tial harms in its health­care sys­tem, as my recent Huff Post piece doc­u­ment­ed. How many Cana­di­ans will face a diag­nos­tic error in their life­times, or when, if ever, a study like the IOM's lat­est will be pro­duced here, is unclear.
It's hard to believe that Cana­da would be any more immune from the risk of wide­spread diag­nos­tic errors than it is from con­ven­tion­al med­ical errors such as hospital‐acquired infec­tions (Cana­da has one of the worst rates among devel­oped nations) or for­eign bod­ies left in patients after surgery (Cana­da has the worst rate among G7 coun­tries). And Canada's wait times for elect­ed surgery are the high­est of report­ing G7 nations.
But nei­ther the U.S. nor Cana­di­an fig­ures cap­ture the emo­tion­al harm expe­ri­enced by fam­i­lies whose loved ones are killed, injured or left per­ma­nent­ly dis­abled as a result of avoid­able errors in the hos­pi­tal set­ting. This impact was recent­ly rec­og­nized by Sir Liam Don­ald­son, one of the world's most respect­ed med­ical author­i­ties on the sub­ject of patient safe­ty.
Writ­ing about the emo­tion­al dam­age to patients and fam­i­lies, Dr. Don­ald­son not­ed, "Too often, health­care orga­ni­za­tions, through their inept and unfeel­ing respons­es, ampli­fy these lat­er waves of harm rather than mit­i­gat­ing their dam­ag­ing effects."
In a stun­ning moment of frank­ness rarely seen at his lev­el of glob­al pro­fes­sion­al esteem, Dr. Don­ald­son also observed that "…too many health­care orga­ni­za­tions espouse the goal of safer care while regard­ing harm as the cost of doing busi­ness."
In 1999, the IOM talked glow­ing­ly about the advan­tages of cre­at­ing "patient cen­tered care that is respect­ful of and respon­sive to indi­vid­ual patient pref­er­ences, needs and val­ues." In its lat­est report, the IOM urged health­care pro­fes­sion­als to cre­ate "envi­ron­ments in which patients and their fam­i­lies are com­fort­able engag­ing in the diag­nos­tic process and shar­ing feed­back and con­cerns about diag­nos­tic errors and near miss­es." But as the views of Dr. Don­ald­son and so many patients and fam­i­lies con­firm, progress in plac­ing the patient and fam­i­ly at the pin­na­cle, or even the cen­ter, of the care process has been, at best, prob­lem­at­ic and uneven. Should we believe it will be any dif­fer­ent mov­ing for­ward with this report?
To bol­ster its case about the con­di­tions that can lead to diag­nos­tic errors, the IOM report high­lights three real‐life sto­ries. In two of those exam­ples, the patients and their fam­i­lies were either not lis­tened to or had their con­cerns dis­missed out of hand — both with dire con­se­quences.
It is the same fail­ure to be atten­tive to the con­cerns of patients and fam­i­lies and to put them at the cen­ter of care regimes that is the cause of incal­cu­la­ble and avoid­able harm in our health­care sys­tems, whether in Cana­da, the Unit­ed States, the Unit­ed King­dom or else­where.
Unfor­tu­nate­ly, even after care­ful­ly not­ing the evi­dence about the dam­age of diag­nos­tic fail­ures, and the harm they may por­tend for the future, the IOM still does not rec­om­mend manda­to­ry report­ing, in a pub­licly acces­si­ble fash­ion, of diag­nos­tic errors. The pub­lic is left out in the cold when it comes to being able to assess the per­for­mance of its health­care insti­tu­tions in diag­nos­tic errors as well as more gen­er­al med­ical mis­takes.
Gov­ern­ment agen­cies, like the U.S. Cen­ters for Dis­ease Con­trol and Health Cana­da, which track caus­es of death from var­i­ous con­di­tions and dis­eases such as stroke and breast can­cer, will not even acknowl­edge that there is a cat­e­go­ry called med­ical errors which rep­re­sents the third lead­ing cause of death in both coun­tries.
This recent report from one of the most respect­ed med­ical author­i­ties in the world, is yet anoth­er jolt­ing reminder that reduc­ing harm to patients and fam­i­lies remains one of the fore­most chal­lenges fac­ing our health­care sys­tems.
Odd­ly, even after this light­ning bolt illu­mi­nat­ing yet anoth­er cost­ly con­ta­gion involv­ing med­ical errors, none of that con­cern has yet to be reg­is­tered by the nation­al polit­i­cal fig­ures vying for their par­ties' pres­i­den­tial nom­i­na­tion in the U.S. or the par­ty lead­ers in Canada's cur­rent gen­er­al elec­tion cam­paign.
The IOM appar­ent­ly has no rec­om­mend­ed treat­ment for myopic politi­cians who don't rec­og­nize a health­care cri­sis when it's right in front of them.