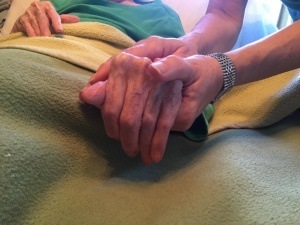 It should be no more acceptable to encounter an absence of compassion, kindness and respect in the healthcare setting than it is to buy a new car and discover they forgot to include the brakes.  Yet it happens to patients and families everyday around the world, along with the emotional harm it unleashes.
(Published in The Huffington Post, October 8, 2015)
A daughter, concerned about her elderly mother's deteriorating condition, begins to question the quality of her care at a major Toronto hospital. The hospital reacts by taking steps to have the daughter removed as her mother's power of attorney and demands immediate payment of an $18,000 bill. Her mother soon passes away in the hospital from an infection acquired there. The hospital refuses to apologize for its actions.

A distraught mother loses a newborn baby to a wrong diagnosis. Looking for answers, she obtains the baby's medical chart. Instead of finding an explanation for what happened, she sees numerous derogatory comments from doctors and nurses about her own actions, adding to her already unbearable emotional pain.
Worried that her doctor has not correctly diagnosed her condition, a patient asks questions and tries to give him more information about her symptoms. The doctor soon begins to bristle and tells her she is annoying him. He says she's accusing him of being incompetent, cutting off the conversation. Feeling abandoned and struggling with her illness, she now has to travel to a new doctor 50 miles from her home for treatment.
These incidents, among the several hundred which have come to the attention of The Center for Patient Protection over the years, reflect the reality of what too many patients and families around the world experience every day: emotional harm from their interactions with the healthcare system.
At its root is a feeling that they were not respected and that they were not listened to when they tried to raise important concerns. Many believe that instead of receiving the comforting and understanding hand of compassionate care, they were cast out in the cold, where patients and families often find themselves after being branded "difficult."
This feeling, which I know first-hand, can be among the most stressful any family can experience and occurs precisely at the time when they are emotionally, and often physically, most vulnerable.
On a recent weekend, I was asked to help a bereaved daughter who was trying to cope with the loss of her father in circumstances involving a hospital's actions she cannot accept. When she tried to get a doctor to respond to her father's declining condition, she was accused of being "disruptive." He refused to speak with her any further. A few days later, her father died. Now, she is racked by emotional distress for not having done more to protect him, believing he didn't need to die if he had been given proper care.
The sense of disrespect many encounter in their efforts to protect a hospitalized loved one is often compounded by the emotional trauma that comes later with a feeling of abandonment in a sea of unanswered questions.
In fact, it's not uncommon for families to be haunted for years by feelings of anger, and even guilt, when a loved one has been harmed or lost either to a medical error or in circumstances that cannot be explained. These feelings take their toll on the health, relationships and financial well-being of family members.
While most families are looking for nothing more than answers, along with a heartfelt apology, in the wake of the loss and emotional harm that ensues, this kind of healing closure is typically denied by current healthcare systems.
But overwhelming evidence, including a recent report by the renowned Institute of Medicine (IOM) , shows that patient and family engagement is a key to promoting better diagnosis and recovery for patients.
Significantly, in the vast majority of hospital incident cases reported to The Center for Patient Protection, it was the family who first saw, and sought attention for, changes in the patient's condition. Unfortunately, most report that their concerns were not treated with respect by the healthcare team and that serious injury or loss of a loved one, which might have been prevented, soon followed.
Research also shows that certain timeless virtues — what I call the healing healthcare virtues— are key to producing successful outcomes. These virtues have the power of a miracle drug, cost nothing and have no adverse side effects.
For instance, patients who receive compassionate care are more likely to share important information with their healthcare providers. When compassionate care is delivered in the emergency room, patients are less likely to return for the same medical issue.
Compassion is also urged in treating mental illness, in mitigating the risk of suicide and self-harm and in caring for patients with dementia and Alzheimer's.
As every exhausted and stressed-out family member knows, anything that helps patients in these situations also benefits their families.
Since the days of Florence Nightingale, compassion has been synonymous with healing. It should be no more acceptable to encounter an absence of compassion, kindness and respect in the healthcare setting than it is to buy a new car and discover they forgot to include the brakes.
Medical errors have become so ubiquitous that they are measured in the equivalent of multiple jumbo jets crashing every week and killing everyone on board. The latest IOM report predicts most Americans will be affected by a diagnostic mistake in their lifetime, some with devastating consequences. These are wake-up calls for every healthcare system, including Canada's.
Wise healthcare providers and policy makers will see these facts as symptoms that a new paradigm for the emotional support of patients and families is needed. It is a paradigm that would see the healing virtues of compassion, kindness and respect embedded into everyaspect of patient care and family interaction.
Where a patient or family suffers emotional harm because of a hospital's or healthcare professional's actions, or where they refuse to heal patients and families suffering from emotional trauma that occurred in a healthcare setting, it should be considered an adverse event and trigger a thorough review by the healthcare provider, just as root cause analysis is supposed to follow certain adverse medical events.
Preventable harm is unacceptable in any healing setting. Until healthcare leaders and professionals begin to understand their duty to prevent emotional pain and make the virtues of compassion, kindness and respect central to the idea of patient and family engagement, our healthcare systems will delivering only partial care. And they will be inflicting far more harm than they should.