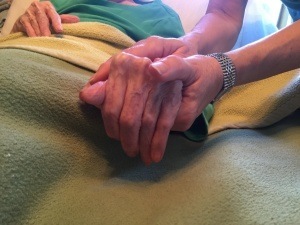 It should be no more accept­able to encounter an absence of com­pas­sion, kind­ness and respect in the health­care set­ting than it is to buy a new car and dis­cov­er they for­got to include the brakes. Yet it hap­pens to patients and fam­i­lies every­day around the world, along with the emo­tion­al harm it unleash­es.
(Pub­lished in The Huff­in­g­ton Post, Octo­ber 8, 2015)
A daugh­ter, con­cerned about her elder­ly mother's dete­ri­o­rat­ing con­di­tion, begins to ques­tion the qual­i­ty of her care at a major Toron­to hos­pi­tal. The hos­pi­tal reacts by tak­ing steps to have the daugh­ter removed as her mother's pow­er of attor­ney and demands imme­di­ate pay­ment of an $18,000 bill. Her moth­er soon pass­es away in the hos­pi­tal from an infec­tion acquired there. The hos­pi­tal refus­es to apol­o­gize for its actions.

A dis­traught moth­er los­es a new­born baby to a wrong diag­no­sis. Look­ing for answers, she obtains the baby's med­ical chart. Instead of find­ing an expla­na­tion for what hap­pened, she sees numer­ous deroga­to­ry com­ments from doc­tors and nurs­es about her own actions, adding to her already unbear­able emo­tion­al pain.
Wor­ried that her doc­tor has not cor­rect­ly diag­nosed her con­di­tion, a patient asks ques­tions and tries to give him more infor­ma­tion about her symp­toms. The doc­tor soon begins to bris­tle and tells her she is annoy­ing him. He says she's accus­ing him of being incom­pe­tent, cut­ting off the con­ver­sa­tion. Feel­ing aban­doned and strug­gling with her ill­ness, she now has to trav­el to a new doc­tor 50 miles from her home for treat­ment.
These inci­dents, among the sev­er­al hun­dred which have come to the atten­tion of The Cen­ter for Patient Pro­tec­tion over the years, reflect the real­i­ty of what too many patients and fam­i­lies around the world expe­ri­ence every day: emo­tion­al harm from their inter­ac­tions with the health­care sys­tem.
At its root is a feel­ing that they were not respect­ed and that they were not lis­tened to when they tried to raise impor­tant con­cerns. Many believe that instead of receiv­ing the com­fort­ing and under­stand­ing hand of com­pas­sion­ate care, they were cast out in the cold, where patients and fam­i­lies often find them­selves after being brand­ed "dif­fi­cult."
This feel­ing, which I know first-hand, can be among the most stress­ful any fam­i­ly can expe­ri­ence and occurs pre­cise­ly at the time when they are emo­tion­al­ly, and often phys­i­cal­ly, most vul­ner­a­ble.
On a recent week­end, I was asked to help a bereaved daugh­ter who was try­ing to cope with the loss of her father in cir­cum­stances involv­ing a hospital's actions she can­not accept. When she tried to get a doc­tor to respond to her father's declin­ing con­di­tion, she was accused of being "dis­rup­tive." He refused to speak with her any fur­ther. A few days lat­er, her father died. Now, she is racked by emo­tion­al dis­tress for not hav­ing done more to pro­tect him, believ­ing he didn't need to die if he had been giv­en prop­er care.
The sense of dis­re­spect many encounter in their efforts to pro­tect a hos­pi­tal­ized loved one is often com­pound­ed by the emo­tion­al trau­ma that comes lat­er with a feel­ing of aban­don­ment in a sea of unan­swered ques­tions.
In fact, it's not uncom­mon for fam­i­lies to be haunt­ed for years by feel­ings of anger, and even guilt, when a loved one has been harmed or lost either to a med­ical error or in cir­cum­stances that can­not be explained. These feel­ings take their toll on the health, rela­tion­ships and finan­cial well-being of fam­i­ly mem­bers.
While most fam­i­lies are look­ing for noth­ing more than answers, along with a heart­felt apol­o­gy, in the wake of the loss and emo­tion­al harm that ensues, this kind of heal­ing clo­sure is typ­i­cal­ly denied by cur­rent health­care sys­tems.
But over­whelm­ing evi­dence, includ­ing a recent report by the renowned Insti­tute of Med­i­cine (IOM) , shows that patient and fam­i­ly engage­ment is a key to pro­mot­ing bet­ter diag­no­sis and recov­ery for patients.
Sig­nif­i­cant­ly, in the vast major­i­ty of hos­pi­tal inci­dent cas­es report­ed to The Cen­ter for Patient Pro­tec­tion, it was the fam­i­ly who first saw, and sought atten­tion for, changes in the patient's con­di­tion. Unfor­tu­nate­ly, most report that their con­cerns were not treat­ed with respect by the health­care team and that seri­ous injury or loss of a loved one, which might have been pre­vent­ed, soon fol­lowed.
Research also shows that cer­tain time­less virtues — what I call the heal­ing health­care virtues– are key to pro­duc­ing suc­cess­ful out­comes. These virtues have the pow­er of a mir­a­cle drug, cost noth­ing and have no adverse side effects.
For instance, patients who receive com­pas­sion­ate care are more like­ly to share impor­tant infor­ma­tion with their health­care providers. When com­pas­sion­ate care is deliv­ered in the emer­gency room, patients are less like­ly to return for the same med­ical issue.
Com­pas­sion is also urged in treat­ing men­tal ill­ness, in mit­i­gat­ing the risk of sui­cide and self-harm and in car­ing for patients with demen­tia and Alzheimer's.
As every exhaust­ed and stressed-out fam­i­ly mem­ber knows, any­thing that helps patients in these sit­u­a­tions also ben­e­fits their fam­i­lies.
Since the days of Flo­rence Nightin­gale, com­pas­sion has been syn­ony­mous with heal­ing. It should be no more accept­able to encounter an absence of com­pas­sion, kind­ness and respect in the health­care set­ting than it is to buy a new car and dis­cov­er they for­got to include the brakes.
Med­ical errors have become so ubiq­ui­tous that they are mea­sured in the equiv­a­lent of mul­ti­ple jum­bo jets crash­ing every week and killing every­one on board. The lat­est IOM report pre­dicts most Amer­i­cans will be affect­ed by a diag­nos­tic mis­take in their life­time, some with dev­as­tat­ing con­se­quences. These are wake-up calls for every health­care sys­tem, includ­ing Canada's.
Wise health­care providers and pol­i­cy mak­ers will see these facts as symp­toms that a new par­a­digm for the emo­tion­al sup­port of patients and fam­i­lies is need­ed. It is a par­a­digm that would see the heal­ing virtues of com­pas­sion, kind­ness and respect embed­ded into everyaspect of patient care and fam­i­ly inter­ac­tion.
Where a patient or fam­i­ly suf­fers emo­tion­al harm because of a hospital's or health­care professional's actions, or where they refuse to heal patients and fam­i­lies suf­fer­ing from emo­tion­al trau­ma that occurred in a health­care set­ting, it should be con­sid­ered an adverse event and trig­ger a thor­ough review by the health­care provider, just as root cause analy­sis is sup­posed to fol­low cer­tain adverse med­ical events.
Pre­ventable harm is unac­cept­able in any heal­ing set­ting. Until health­care lead­ers and pro­fes­sion­als begin to under­stand their duty to pre­vent emo­tion­al pain and make the virtues of com­pas­sion, kind­ness and respect cen­tral to the idea of patient and fam­i­ly engage­ment, our health­care sys­tems will deliv­er­ing only par­tial care. And they will be inflict­ing far more harm than they should.