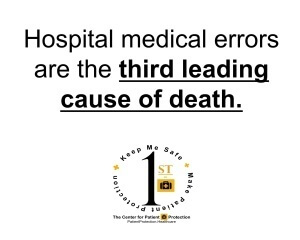 "Too often, health­care organ­i­sa­tions, through their inept and unfeel­ing respons­es, ampli­fy these lat­er waves of harm rather than mit­i­gat­ing their dam­ag­ing effects." Sir Liam Don­ald­son, M.D., world-renowned patient safe­ty advo­cate.
Patients and fam­i­lies share their sto­ries about med­ical errors and their emo­tion­al impact
We hear heart-wrenching sto­ries every day from patients and fam­i­lies who have expe­ri­enced the tragedy of avoid­able hos­pi­tal harm. In addi­tion to its phys­i­cal toll, which sad­ly is often life-ending, there is the hor­rif­ic emo­tion­al injury that is inflict­ed on fam­i­lies who often come up against a wall of silence in their search for answers and account­abil­i­ty. This, too, can be life-altering in its dev­as­ta­tion. With­out answers and an appro­pri­ate apol­o­gy from those respon­si­ble when a loved one is harmed, there can be no emo­tion­al heal­ing. With­out that heal­ing, the dam­age to fam­i­ly mem­bers can last a life time.
Here are a few snap­shots we think cap­ture the range of tragedy and emo­tions that are brought on by the third lead­ing cause of death in the U.S. and Cana­da. It is one of the rea­sons all of us need to be doing every­thing we can to end this epi­dem­ic and make Patient Pro­tec­tion 1st.
Read what you can do to help end hos­pi­tal harm by fol­low­ing the links on our site or by con­tact­ing us here.