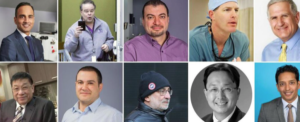 Each of the ten doc­tors pic­tured above billed Ontario tax­pay­ers more than $3 mil­lion in 2017–2018, accord­ing to a ground-breaking inves­ti­ga­tion by the Toron­to Star. Kath­leen Fin­lay, founder of the The Cen­ter for Patient Pro­tec­tion, was inter­viewed for the Star series.
Like all Cana­di­an doc­tors, a large chunk of their lia­bil­i­ty insur­ance pre­mi­um — more than 80 per­cent — was paid by Cana­di­an tax­pay­ers, too. Last year, Ontario forked over more than $326 mil­lion to sup­port the Cana­di­an Med­ical Pro­tec­tive Asso­ci­a­tion (CMPA), which is the orga­ni­za­tion that defends doc­tors against alle­ga­tions that they harmed patients, includ­ing accu­sa­tions of sex­u­al mis­con­duct. Three hun­dred mil­lion dol­lars is a lot of health­care dol­lars that could be put to bet­ter use in an already over-stressed, under-resourced sys­tem. The gross income for the aver­age Ontario fam­i­ly doc­tor is more than $400,000 annu­al­ly.
What hap­pens with the pub­lic mon­ey that goes to the CMPA? More often than not, it winds up caus­ing more harm and dis­tress to the patient/taxpayers who are pro­vid­ing it. With a war chest of more than $4.5 bil­lion and a rep­u­ta­tion for aggres­sive­ly defend­ing any doc­tor accused of wrong­do­ing with what one Ontario judge called a scorched earth pol­i­cy, the CMPA rep­re­sents an almost impos­si­ble bar­ri­er for ordi­nary patients and fam­i­lies seek­ing jus­tice.
If that's not per­verse, I don't know what is.
Our health­care sys­tem should not do more to pro­tect doc­tors than the patients they've harmed. Kath­leen calls the CMPA a Frankenstein-like cre­ation. It forces patients who already pay as tax­pay­ers for the health­care sys­tem to also pay for the legal defence of the very doc­tors who harmed them. As she told CTV Nation­al News, "If that's not per­verse, I don't know what is."
The Cen­ter was among the first to begin the long over­due cam­paign to end this out­dat­ed, unnec­es­sary and offen­sive legal aid sys­tem for doc­tors.
Kath­leen Fin­lay was inter­viewed on CTV Nation­al News with Sandie Rinal­do for the patient per­spec­tive on the CMPA.
RELATED:
Kath­leen Fin­lay inter­viewed on CTV Nation­al News with Sandie Rinal­do
Do Multi-million Dol­lar Doc­tors Real­ly Need Legal Aid?
Our Sys­tem Does More to Pro­tect Doc­tors than the Patients They've Harmed
Tax­pay­ers Should Stop Sub­si­diz­ing Doc­tors' Lia­bil­i­ty Costs
It's Time for a Shake­up in Our Health­care Com­plaints Sys­tem
Read Kath­leen Finlay's wide­ly quot­ed arti­cle on the CMPA in The Huff­in­g­ton Post.
The Cen­ter for Patient Pro­tec­tion call for the elim­i­na­tion of tax­pay­er sup­port of the Cana­di­an Med­ical Pro­tec­tive Asso­ci­a­tion cit­ed in Gib­son: Is It Time to Adopt a No‐Fault Scheme to Com­pen­sate Injured Patients? (Uni­ver­si­ty of Ottawa Law Review)