(Published in The Huffington Post)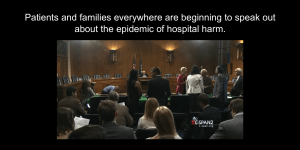 Visit any major city in North America and you will quickly discover the link between cash and name recognition in healthcare. Some rich person gives a few million to an urban hospital and their name goes up on a wing. Recently, a generous $3 million donation by one time investment executive Tom Kierans and his partner, Mary Janigan, to Toronto's Mount Sinai Hospital was celebrated in a full-page advertisement in Canada's national newspaper.
Less well-known is what others give to make hospitals safer. And some, like the families of victims of harm who now champion better patient safety, have paid an even steeper price than writing a cheque.
None I know trained for their current role and clearly all would have preferred to have avoided the circumstances that thrust it upon them. Yet, every day, they battle to make the world safer for patients and more compassionate for their families. And the facts show they are desperately needed.
The prestigious Institute for Healthcare Improvement based in Cambridge, Mass. says that 15 million patients are harmed by medical errors in U.S. hospitals each year. Similar avoidable injuries happen in Canada. A recent video produced by Toronto's University Health Network reminds us that in 2014, more than 30,000 hospital deaths resulted from medical errors.
Family patient safety advocates come from all walks of life. They are fathers and mothers, sons and daughters, husbands and wives, brothers and sisters. But what they share is the common experience that they all entered their new calling through the dark doorway of tragedy, loss and suffering — most of which was avoidable.
They are people like Christopher Jerry, who has devoted himself to the cause of patient safety since a hospital pharmacy error took the life of his 2-year-old daughter, Emily. Actor Dennis Quaid embarked on a national campaign to end medical mistakes when a hospital made an error that resulted in the near-death of his newborn twins.
Following the sudden hospital death of his son, Alex, John T. James, NASA's chief toxicologist, used his scientific training to examine the calculation of hospital deaths in the U.S. He concluded that previous figures had woefully underreported the scope of the problem. His estimate of up to 440,000 deaths annually from hospital errors is now the gold standard for patient safety experts and was adopted by a committee of the United States Senate in its landmark hearings on the subject last year.
John recently told me in an interview, "You owe it to the one devastated, once you have managed your acute grief, to do all you can to stop the carnage of medical errors. You also have to forgive those who caused the harm, but you do not have to forgive the system that has allowed harm to go on far too long."
In Canada, the painful death of Dimitra Daskalos from avoidable hospital blunders saw her daughter, Maria, become a tireless champion for greater hospital accountability. Last year, Ontario's government finally agreed to create the office of patient ombudsman. Maria says its doors can't open soon enough to help all the patients and families who need it.
After preventable hospital failures tragically resulted in the death of her son at birth, Australia's Stephanie Newell began a campaign that eventually led to a far-reaching involvement with the World Health Organization's Patients for Patient Safety initiative. Stephanie has said she often hears from other advocates,"I kept telling them what was wrong but no one was listening to me."
How many times have those exact words echoed across the world from one hospital crisis to another, always in the wake of horrible sadness that might have been avoided? I hear them every day through our patient and family program at the Center for Patient Protection.
Everyone's story is unique of course, but when you hear the same sentiments expressed time and again in different accents and from different countries, you begin to get a sense that too many healthcare providers are suffering from a chronic condition that causes them to make the same mistakes over and over. Those errors are not just in allowing the harm to occur to the patient in the first place, but also in how often these hospitals mismanage their relationships with families after the harm has occurred.
Many times, all the surviving family is looking for is just an honest explanation for what happened. Maybe an apology. Certainly all look for a return of the virtue of respect they feel was missing in the treatment of their loved ones and in any failure to disclose what really happened. Frankly, it would be hard to overstate how important the value of respect is to patients and families in most hospital situations, or the horrible cascade of events that can occur in its absence.
What compounds the tragedy of these stories is that when they are looked at through the longer lens of time, it becomes so obvious that it would have been easy for the hospital involved to avoid the bad press or the protracted litigation, to say nothing of the human toll. Sometimes, a soft voice saying "we are sorry," or a supportive hand by a hospital official who offers to reimburse a family for the parking bills that can quickly mount, could have gone a long way toward putting things on a more positive path.
Remarkably, many surviving family members find a way of bending the arc of anger and sorrow that would otherwise consume them into causes that make the system safer for others.
The men and women who are devoting their lives to this mission don't get paid for it and none will ever see a full page ad extolling their contributions. Most of their work is carried on quietly in training sessions and seminars, in blog postings and tweets, and in creating resources to help patients and families navigate the healthcare maze.
All of them have paid an enormous price to make healthcare better and safer for everyone. We owe them a huge debt of gratitude in return.