(Pub­lished in The Huff­in­g­ton Post)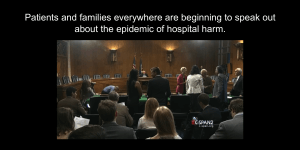 Vis­it any major city in North Amer­i­ca and you will quick­ly dis­cov­er the link between cash and name recog­ni­tion in health­care. Some rich per­son gives a few mil­lion to an urban hos­pi­tal and their name goes up on a wing. Recent­ly, a gen­er­ous $3 mil­lion dona­tion by one time invest­ment exec­u­tive Tom Kier­ans and his part­ner, Mary Jani­gan, to Toronto's Mount Sinai Hos­pi­tal was cel­e­brat­ed in a full‐page adver­tise­ment in Canada's nation­al news­pa­per.
Less well‐known is what oth­ers give to make hos­pi­tals safer. And some, like the fam­i­lies of vic­tims of harm who now cham­pi­on bet­ter patient safe­ty, have paid an even steep­er price than writ­ing a cheque.
None I know trained for their cur­rent role and clear­ly all would have pre­ferred to have avoid­ed the cir­cum­stances that thrust it upon them. Yet, every day, they bat­tle to make the world safer for patients and more com­pas­sion­ate for their fam­i­lies. And the facts show they are des­per­ate­ly need­ed.
The pres­ti­gious Insti­tute for Health­care Improve­ment based in Cam­bridge, Mass. says that 15 mil­lion patients are harmed by med­ical errors in U.S. hos­pi­tals each year. Sim­i­lar avoid­able injuries hap­pen in Cana­da. A recent video pro­duced by Toronto's Uni­ver­si­ty Health Net­work reminds us that in 2014, more than 30,000 hos­pi­tal deaths result­ed from med­ical errors.
Fam­i­ly patient safe­ty advo­cates come from all walks of life. They are fathers and moth­ers, sons and daugh­ters, hus­bands and wives, broth­ers and sis­ters. But what they share is the com­mon expe­ri­ence that they all entered their new call­ing through the dark door­way of tragedy, loss and suf­fer­ing — most of which was avoid­able.
They are peo­ple like Christo­pher Jer­ry, who has devot­ed him­self to the cause of patient safe­ty since a hos­pi­tal phar­ma­cy error took the life of his 2‐year‐old daugh­ter, Emi­ly. Actor Den­nis Quaid embarked on a nation­al cam­paign to end med­ical mis­takes when a hos­pi­tal made an error that result­ed in the near‐death of his new­born twins.
Fol­low­ing the sud­den hos­pi­tal death of his son, Alex, John T. James, NASA's chief tox­i­col­o­gist, used his sci­en­tif­ic train­ing to exam­ine the cal­cu­la­tion of hos­pi­tal deaths in the U.S. He con­clud­ed that pre­vi­ous fig­ures had woe­ful­ly under­re­port­ed the scope of the prob­lem. His esti­mate of up to 440,000 deaths annu­al­ly from hos­pi­tal errors is now the gold stan­dard for patient safe­ty experts and was adopt­ed by a com­mit­tee of the Unit­ed States Sen­ate in its land­mark hear­ings on the sub­ject last year.
John recent­ly told me in an inter­view, "You owe it to the one dev­as­tat­ed, once you have man­aged your acute grief, to do all you can to stop the car­nage of med­ical errors. You also have to for­give those who caused the harm, but you do not have to for­give the sys­tem that has allowed harm to go on far too long."
In Cana­da, the painful death of Dim­i­tra Daska­los from avoid­able hos­pi­tal blun­ders saw her daugh­ter, Maria, become a tire­less cham­pi­on for greater hos­pi­tal account­abil­i­ty. Last year, Ontario's gov­ern­ment final­ly agreed to cre­ate the office of patient ombuds­man. Maria says its doors can't open soon enough to help all the patients and fam­i­lies who need it.
After pre­ventable hos­pi­tal fail­ures trag­i­cal­ly result­ed in the death of her son at birth, Australia's Stephanie Newell began a cam­paign that even­tu­al­ly led to a far‐reaching involve­ment with the World Health Organization's Patients for Patient Safe­ty ini­tia­tive. Stephanie has said she often hears from oth­er advocates,"I kept telling them what was wrong but no one was lis­ten­ing to me."
How many times have those exact words echoed across the world from one hos­pi­tal cri­sis to anoth­er, always in the wake of hor­ri­ble sad­ness that might have been avoid­ed? I hear them every day through our patient and fam­i­ly pro­gram at the Cen­ter for Patient Pro­tec­tion.
Everyone's sto­ry is unique of course, but when you hear the same sen­ti­ments expressed time and again in dif­fer­ent accents and from dif­fer­ent coun­tries, you begin to get a sense that too many health­care providers are suf­fer­ing from a chron­ic con­di­tion that caus­es them to make the same mis­takes over and over. Those errors are not just in allow­ing the harm to occur to the patient in the first place, but also in how often these hos­pi­tals mis­man­age their rela­tion­ships with fam­i­lies after the harm has occurred.
Many times, all the sur­viv­ing fam­i­ly is look­ing for is just an hon­est expla­na­tion for what hap­pened. Maybe an apol­o­gy. Cer­tain­ly all look for a return of the virtue of respect they feel was miss­ing in the treat­ment of their loved ones and in any fail­ure to dis­close what real­ly hap­pened. Frankly, it would be hard to over­state how impor­tant the val­ue of respect is to patients and fam­i­lies in most hos­pi­tal sit­u­a­tions, or the hor­ri­ble cas­cade of events that can occur in its absence.
What com­pounds the tragedy of these sto­ries is that when they are looked at through the longer lens of time, it becomes so obvi­ous that it would have been easy for the hos­pi­tal involved to avoid the bad press or the pro­tract­ed lit­i­ga­tion, to say noth­ing of the human toll. Some­times, a soft voice say­ing "we are sor­ry," or a sup­port­ive hand by a hos­pi­tal offi­cial who offers to reim­burse a fam­i­ly for the park­ing bills that can quick­ly mount, could have gone a long way toward putting things on a more pos­i­tive path.
Remark­ably, many sur­viv­ing fam­i­ly mem­bers find a way of bend­ing the arc of anger and sor­row that would oth­er­wise con­sume them into caus­es that make the sys­tem safer for oth­ers.
The men and women who are devot­ing their lives to this mis­sion don't get paid for it and none will ever see a full page ad extolling their con­tri­bu­tions. Most of their work is car­ried on qui­et­ly in train­ing ses­sions and sem­i­nars, in blog post­ings and tweets, and in cre­at­ing resources to help patients and fam­i­lies nav­i­gate the health­care maze.
All of them have paid an enor­mous price to make health­care bet­ter and safer for every­one. We owe them a huge debt of grat­i­tude in return.